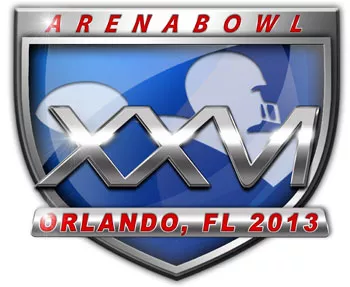 Many of you may have heard of the Orlando Predators, the arena football team that recently guaranteed their fans a winning season – a bold move on their part, if you ask me. It is almost as bold as Babe Ruth calling his shot before the pitch. Well, they have another announcement for the public: ArenaBowl XXVI will be coming to the Amway Center of Orlando, Florida on August 17th, 2013!  ArenaBowl is the championship game between the American Conference and National Conference of hyperjuiced sprinting jocks. The game will air on CBS  ("the nations most watched network," the press release seethes) at 1 p.m. During the press conference, everyone couldn't sound more excited that this event is taking place at the Amway Center, much less in Orlando.
"We built the award-winning Amway Center to host national and international events with a vast array of fan amenities, which makes Orlando the ideal place to host the ArenaBowl. This event will be more than just another football game.  The AFL, Orlando Predators, City of Orlando and Visit Orlando plan to make this a major league weekend," Mayor Buddy Dyer said in the advance press release.
AFL Commissioner Jerry B. Kurz thinks the Amway Center is a step up from all the over previous venues that ArenaBowl has played at throughout their 26 years. I'd have to agree: Amway Center is very becoming. It even still smells new! But this isn't the biggest news of the day (not to me anyway). About an hour before the press conference, the city and the Predators confirmed (sort of) that KISS will be coming to ArenaBowl XXVI this year too! ("They did announce that there will be a concert," city spokeswoman Heather Fagan says. "They didn't say whether it would be the same night. I think those details are still being worked out."). The assumption (and now confirmed assertion) is that KISS will boot their way through a show Friday night, leaving a very short window to have all of the makeup scrubbed off the floor by the 1 p.m. game on Saturday.  Obligatory economic development numbers were thrown around by the mayor, $15-$20 million to be exact, but, as our FOX-35 reporter friend Mike Synan points out, that's probably the sort of fiction we should have grown accustomed to. Seeing as every Predators season ticket holder (about 10,000) gets a free ticket, that means that only 7,000 economic development generating vessels will be coming in from out of town. The bulk of the economic development already exists in Orlando.
But, still. Arena football and KISS. You're welcome.