...2042.  Oh, come on - it's not too far away.
In front of the Nickelodeon Suites Resort (14500 Continental Gateway), one can find the buried time capsule of 1992, when things seemed much simpler. The original burial ground was in front of the network within Universal Studios Orlando, outside Stage 18. It was moved in 2006, when Nickelodeon Studios closed its multi-colored doors.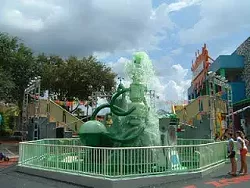 The items placed inside were deemed important to the kids of 1992. The capsule will be opened on April 30th, 2042. It will be the 50th Anniversary of its locked away status.
Just to name a few of the items:[gallery columns="3" link="file" ids="38001,38000,38002,38003,38004,38006,38005,38021,38045"]
Wonder if they will get the original hosts from 1992, Mike O'Malley (GUTS) and Joey Lawrence (Blossom)?
O'Malley will be 76-years-old. Lawrence, the spry age of 66.
http://www.youtube.com/watch?v=zbmfQ8pB0Bs