It's a slow film week with Super Bowl XLVII set to kick off tonight in New Orleans.
Warm Bodies
, the zombie comedy with Nicolas Hoult, easily won the weekend. I'm not all that interested in the matchup of San Francisco versus Baltimore, and
the list of  movie trailers premiering tonight
-- like
The Lone Ranger, Star Trek, Fast
Six, and
Iron Man 3
-- don't inspire much more interest to watch the telecast, to be honest.
With the lack of new fare this weekend, there were a slew of awards handed out this week:
The DGA winners. Here come a whole shit load more of "they gave Ben Affleck a fuckin' award?" jokes. Awesome.
The SAG Award winners (guess I was wrong about Argo, eh?).
The NAACP Image Awards, where I'm glad to see Red Tails getting a little bit of love. Call me a sucker, but I really liked it, despite how (intentionally) lame it was.
The Art Director's Guild Awards, where Life of Pi, Skyfall and Anna Karenina won the big awards.
And also the Annie Awards, which I always mean to watch but then always forget. Wreck-It Ralph was the big winner, taking home 5 awards, including best film, best director and writing. The Annies are sort of a pain in the ass because I'd like to have seen all of the short subjects and special nominees, but they're usually all stragglers. The same with the Oscars Animated Short awards. I've only seen two (Paperman and Fresh Guacamole), though at leas they put out a special program to screen all of the nominees for all of the three short subject categories (which is playing now at the Enzian, btw. Seeing that this week).
Lastly I could have lived my whole life just fine without ever hearing about Larry King getting fresh with Katie Couric. Yuck.
News, links, etc:
-Cleaning up after Sundance, here is a rundown of all of the acquisitions made during the festival. (First Showing)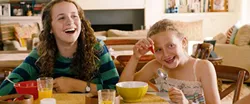 -Is Maude Apatow the new Jean-Pierre Léaud? Daddy Judd might be looking into turning Sadie into Antoine Doinel, and sending her off to college for a third installment. We can't wait for the father-directed sock-on-the-door scenes either, where the terrified boy will mysteriously have a black eye for being too real. (Playlist)
-Dakota Fanning on her... wait, what? Her nude scene? (NextMovie)
-Not into football? Curl up on the couch and read this 5,000 word article by Karina Longworth about Charlie Sheen. Umm... winning? (LA Weekly)
-For Warner Bros' 90th anniversary, 50 facts. I'm pretty sure I've posted this before, but it's still a lot of interesting stuff in here. (Moviefone)
-Paul Schrader finally responds to the outrageous reports in the damning NY Times Magazine article about Lindsay Lohan and The Canyons, which is currently looking for a buyer. The movie sounds awful, but the screenplay sounds like something I'd like to read. (IndieWire)
-Don't have enough streaming options to pick from? Well add one more: The Warner Archive is now live and streaming. (CriterionCast)
-It was a banner year for animation, and the Oscars are bearing that out. (NY Times)
-What's holding up The Girl Who Played with Fire? Bond. James Bond. (THR)
-Kareem Abdul Jabbar makes some good, but not wholly original points in his appraisal of Lena Dunham's Girls, spurred on by a comment she made about being wished dead by 58-year-old men. (HuffPo)
-Fast Six's plot is almost exactly what you expected and it will probably be amazing just cause. (Cinema Blend)
-Former Yankees pitcher Fritz Peterson -- who infamously traded wives with teammate Mike Kekich -- on why he hopes Matt Damon and Ben Affleck's movie comes out.  Kekich, not so much. (The Palm Beach Post)
-RIP Stefan Kudelski, who invented the best film sound recorder ever, the Nagra. (NY Times)
-The tale of Argo is even stranger than we originally thought. (Westword)
-Smash: Behind the Trainwreck. (Buzzfeed)
-Ever wonder why Christoph Waltz's character in Django Unchained rides a dental carriage through the early parts of the film? (Carpetbagger)
-The second season of Armando Iannuci's Veep is halfway through shooting. (@aianucchi)
-And Disney finds its lead for Girl Meets World. (Vulture)
Short Films:
-The Oscar nominated Fresh Guacamole, by PES. (1:45) (EatPES)
-The first part of the two-part Diego Luna/Gael Garcia Bernal short film series for Chivas Regal, Drifting. This is Luna's directorial debut. (6:00) (Playlist)
Trailers, posters, etc:
-Goro Miyazaki's From Up on Poppy Hill, a nostalgic story of youth co-written by Hayao Miyazaki. (Apple)
-The official trailer for the 2013 Florida Film Festival. No films have been announced yet. (EnzianFilms)
-Spring Breakers could only come from the brain of Harmony Korine. (NSFW) (Twitch)
-Neil Jordan's vampire film Byzantium. (Deadline)
-Somebody Up There Likes Me, with Nick Offerman and Jess Weixler. (Apple)