I'm almost ashamed to admit it, but I didn't see the movie
Catfish
when it played in theaters. There were a bunch of reasons
mostly that I was living in New York at the time, and we don't tend to get a lot of independent film up there.
But now I've seen the movie. I'm hooked on Catfish: The TV Show. I've watched along with the rest of America as the Manti Te'o story unfolded. And I think it's safe to say that I am developing something of a catfish obsession. I am Team Catfish.
"The good news is that I seem to have won some sort of sweepstakes."
"The good news is that I seem to have won some sort of sweepstakes."
But I want more. I want to see Catfish greeting cards in all the Hallmark stores. ("Happy bar mitzvah! Or is it retirement? I'm never quite sure.") I want to walk into 7-Eleven and order a Catfish Slurpee. (You ordered mango, but is that what you'll get? Who knows?) And to top it all off, I want somebody to make a documentary proving that the entire phenomenon of catfishing doesn't exist – that it's all just an elaborate hoax some guy came up with because he was bored. At that point, the world will collapse in upon itself, and we'll all get to meet Jesus.
But this blog is supposed to be a running inquiry into the sociopolitical ramifications of popular culture (it says here), not a rote rundown of my fleeting personal preoccupations. So
what does it all mean? Why has America gone catfish crazy?
When it comes to the TV series, Nev Schulman would probably say that he's trading in healing – that we're tuning in to see people who have tricked each other own up to their little transgressions, forgive each other and move on. Yeah, NEXT! If we watched TV for the gentle reconciliation, Dr. Phil would never have to use his outside voice.
The more logical answer is that catfishing has us hooked because it vindicates our thoroughly modern paranoia. Now that so much of our interaction is digitized and remote, we've come to take it for granted that, at any given moment, we might be talking to someone who isn't who he claims to be
and that his motives are probably illicit.
"Oh, right. Like I'M the asshole."
"Oh, right. Like I'M the asshole."
That's closer, but it's not the entire picture. The catfish craze is above all an exercise in mass marketing, and mass marketing isn't just about making the consumer feel smart by reinforcing his pre-existing cynicism. It's about captivating him with the revelation that things aren't merely as bad as he feared, but a whole lot worse. Thus, the point of a good catfish story isn't whether or not a flim-flam has taken place (which is never really in doubt), but how deep the lies go. Finding out that your online crush has an 11-year-old daughter is so Maury Povich ago; finding out that said crush is also a biological female, and not a transgendered male as she had claimed
now, that's how 21st-century America likes its catfish.
It's a freak show, sure. We kid ourselves, however, if we feign disdain for its star attractions. When we hear a good catfish story, we're revolted on one level but inspired on another. Personally, we identify with the dupe; but culturally, we identify with the catfish. It's all too easy (and tempting) to cast ourselves as the victims when, deep in our hearts, we yearn to be the one doing the gettin' over.
The urge to reinvent oneself is a strong element of the American psyche; it meshes nicely with the millennial push to raise our station without doing any actual work to get there. Why go to the trouble of carving out a career as a high-fashion model, when it's so much easier to simply say you already are one? The endless malleability of social networking is the best friend instant gratification ever had, and catfishing is the ultimate in being without becoming.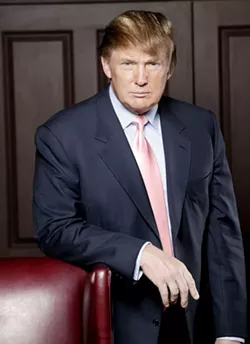 All hail the alpha fish.
In that sense, Catfish: The TV Show is no different than American Idol. Each program presents us with the spectacle of eager hopefuls who want the rest of the world to recognize them for what they already believe they are. Protesting that the contestants on Idol possess actual talent would be practically Puritanical in its narrowness; decades past Warhol, how is self-creation not a talent in and of itself? Elsewhere on the dial, Donald Trump is granted "reality" godhead because he's managed to convince the country that he's one of its richest men, as opposed to one of its biggest debtors. He's a catfish in a suit.
So maybe the best way to interpret the catfish phenomenon is as a training exercise. The late Sam Kinison once noted that America's Most Wanted is such a ratings hit because, each week, its audience consists of every dangerous fugitive in the country, checking in to see if the feds are getting close. The depiction of catfishing in movies, on TV and in the news performs a similar public service, giving us a set of identity-making tools to hold in reserve and then pull out at the societal moment when it becomes wholly respectable to use them ourselves.
That moment is soon. The first full-fledged catfish celebrity is right around the corner. It won't be Ronaiah Tuiasosopo; it'll be somebody who devises a phony identity for the express purpose of becoming famous –- hiding in the public eye, if you will. He or she will be rewarded with all the traditional spoils, from a talk show to a fragrance line to a frank memoir of substance abuse and redemption. At that point, we as a people will know that we are no longer defined by what we are, but by what we aren't.
That's the way I see it, anyway. As far as you know.