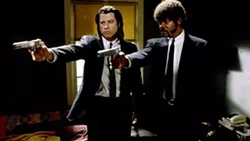 We're only a week away from the big night now: the 85th annual Academy Awards airs next Sunday night, and I still think
Lincoln
will have a huge night, or at least a bigger night than the heavy-favorite,
Argo
. I watched it for a second time this week, and
Argo
is a really good movie, but to me just doesn't stand up to
Lincoln
. Of course my opinion means shit when it comes to the actual Oscars, but tomorrow we begin the third annual
OW Oscarama
, where we break down the top 11 Oscar categories and choose our own winners. My opinion is everything in Oscarama this year, since I'm flying solo on it, due to the untimely demise of former-editor Justin Strout (who is alive and well and living in Los Angeles). It's the best Oscar field in recent memory, and each category is tough to call, so it should be an interesting week that no doubt many of you will disagree with and call me an asshole over (behind my back hopefully).
News, links, etc:
-The Berlinale wrapped up this week with
Child's Pose
by C?lin Peter Netzer winning the Golden Bear as top film at the fest. (
Cineuropa
) -But jury president Wong Kar Wai and his opening night film,
The Grandmaster
, was probably the biggest story for me. (
NY Times
) -Esquire has a profile of the Navy SEAL who killed Osama Bin Laden and his thoughts on Zero Dark Thirty: "They Hollywooded it up some." (
Esquire
) -A video essay about Koreeda Hirokazu for the BFI by Kogonada. It's a great piece and makes me want to go back through Koreeda's filmography. (
Sight & Sound
) -The
Pulp Fiction
oral history. (
Vanity Fair
) -
Wreck-It Ralph 2
? Yes, please.
Jurassic Park 4
? No thanks.
Oldboy
who is trying to break into the American market with
Stoker
, better. (
LA Times
) -
Sleepless in Seattle
or
You've Got Mail
? I've been preaching
You've Got Mail
for years. (
Vulture
) -Looks like we will actually get to see Paul Schrader's The Canyons. IFC picked it up. Now will it find a release date before the porno parody (which might
also
star James Deen)? (
EW
) -Some new material from Jerry Jerry Dingleberry Seinfeld. Some of it is gold, some of it is Bania. (
THR
) -It doesn't even matter who is in Michael Mann's new film or what it's about if he's going to shoot it in the same dogshit style that he's shot everything he's done post
The Insider
. (
AV Club
)
Short Films:
-
The Brain Centrifuge Project
, by Till Nowak. Look for a little Peter Capaldi cameo. (6:36) (
KurzFilmAgentur
) -
Ninja Ko
, a high school era short film by Rian Johnson. (3:47) (
CinephileArchive
)
Trailers, posters, etc: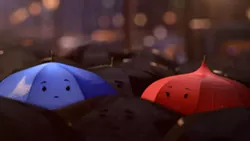 -The beautiful poster for Pixar's next short (attached to Monsters University),
The Blue Umbrella
. (
Vulture
) -
Trance
, by Danny Boyle. (
Yahoo!
) -Does this poster for
Drew Struzan: The Man Behind the Poster
live up to actual Struzan posters? How could it? (
First Showing
) -Christian Mungui's Cannes Best Screenplay winner,
Beyond the Hills
. (
Apple
) -The international trailer for Pixar's
Monsters Universit
y. (
YT
) -Stills from live action/animated
The Congress
, by
Waltz with Bashir
director Ari Folman. (
Playlist
)