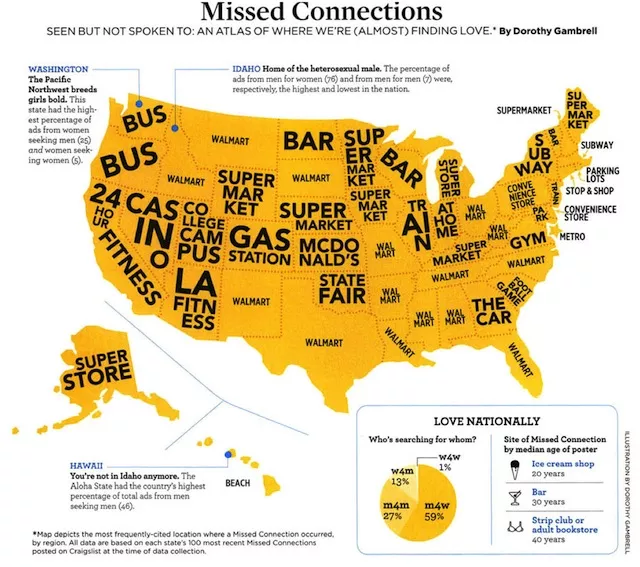 Have you seen this infographic yet? It's a piece that ran this month in Psychology Today. Called "Missed Connections: An atlas of where we're (almost) finding love," it outlines where people in different states were posting about their Missed Connections on Craigslist. In New York, naturally, most of the Missed Connections posts were about fleeting almost-love connections on the Subway. In Oklahoma, most were made at the state fair. Here in Florida? WalMart. Take this one, for instance, posted Feb. 12 in Orlando Craigslist's Missed Connections section:
Hunter's Creek Neighborhood Wal-Mart - m4w

I saw you shopping with your son. We crossed paths a few times and almost ran into one another while turning into an isle. You were wearing a jacket and yellow/white pajama bottoms and I was wearing grey jeans and a Miami Heat jersey. I was going to say something to you, but I ran into a friend of mine that hung out with me while I shopped. I looked for you before I checked out, but I guess you had gone. I think that you're a very attractive woman and I would enjoy getting to know you. Lets talk.
Or this one, posted Feb. 15:
a funny story no one will ever hear - w4m (Orlando)

You: cousin-fuckin' redneck with the busted-ass red truck in the Walmart parking lot, a.k.a., "home."

Me: friend/former neighbor/"Jew."

Funny story: half-assed, left-handed hand job in your "living room" (or "bedroom", it's hard to tell) during what seemed to be an unusually busy time for an otherwise desolate area, especially for a Tuesday afternoon. You flooded your only blanket; I call for a Mulligan, since you were unable to give even subtle cues as to whether or not it was enjoyable (you looked fucking confused).

See you later, Tons-of-Fun. I believe you have a bucket list you're still trying to fulfill.
If it makes you feel any better, we're not alone. WalMart was popular in 14 other states as well, including Texas, Mississippi, Ohio and West Virginia. Could be worse – we could be like Indiana, where somehow most missed connections happened "At Home." Not sure how that works, exactly, but it sounds sad and lonely.