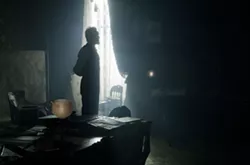 And so, here we are. Down to the last category, the biggest category of them all. All of the Oscar prognosticators and armchair opinionators will tell you that it's a mortal lock for
Argo
to become the latest in a long line of safe, boring Best Picture winners. Because of a couple of votes and some backroom maneuvering,
Argo
will be elevated from the shelf of good movie to the mantle of great film and awarded a little golden man, just like
The Artist
and
The King's Speech
before it. It's a bit silly, but no matter how much we want the force of our opinions to matter, we're only spectators when it comes to Oscar. The award itself is basically meaningless. The attention the nomination (or the snub) brings to the films is the real juice to the award season. After all, it's all about placation. The original awards were created to placate the unions. The awards now placate the egos behind the pictures. Attention is the best way to build the box office, which is the best way to boost the ego. After a great year, it's almost a shame it's come down to these nine films. There are so many great films missing. Only two films from my top 10 --
Lincoln
and
Beasts of the Southern Wild
-- were nominated (thought
Monsieur Lazhar
was nominated for a Best Foreign Language Film last year). I'm not going to has them out one by one. I've done that already throughout the week and honestly it's kind of boring to keep saying the same things about the same films over and over again. But for me, there was a clear winner, one that stuck its nose out just a little farther than the rest. So let's get to it.
THE NOMINEES
Margaret Menegoz, Stefan Arndt, Veit Heiduschka and Michael Katz --
"Amour"
Grant Heslov, Ben Affleck and George Clooney --
"Argo"
Dan Janvey, Josh Penn and Michael Gottwald --
"Beasts of the Southern Wild"
Stacey Sher, Reginald Hudlin and Pilar Savone --
"Django Unchained"
Tim Bevan, Eric Fellner, Debra Hayward and Cameron Mackintosh --
"Les Misérables"
Gil Netter, Ang Lee and David Womark --
"Life of Pi"
Steven Spielberg and Kathleen Kennedy --
"Lincoln"
Donna Gigliotti, Bruce Cohen and Jonathan Gordon --
"Silver Linings Playbook"
Mark Boal, Kathryn Bigelow and Megan Ellison --
"Zero Dark Thirty"
THE WINNER
For me, of this list, it's
Lincoln
. The triple tag-team of Kushner, Spielberg and DDL (not to mention Tommy Lee Jones and Janusz Kaminski) were operating on some special plane of filmmaking existence to pull this out of their top hats. There were films I liked better from last year, like
Monsieur Lahzar
,
Moonrise Kingdom
and
Holy Motors
, but from these nine choices, Lincoln was everything I could ask for out of a biopic and a film.
SPECIAL GUEST BLOGGER:
Justin Strout
, about his best picture thoughts from beyond. After hours of waiting, he finally emailed me back from his house in sunny California, and had this to say:
Having abdicated the film editor role late in the cinematic year in 2012, I was looking forward to once again reading about the nominees in fan mode this time. After all, I liked so much of what I saw this year: Rian Johnson going 3-for-3 with Looper; Joss Whedon's crowdpleasing one-two punch of The Avengers and Cabin in the Woods; Jiro's fish, Wes Anderson's scout camp, Bully's brave ones, Soundsystems and Queens of Orlando. And just as I remember leaving it, the list of honored films made this fan slump a little lower in his blow-up couch. I mean, they're fine. But, c'mon. You're telling me the rickety platforms offering up Russell Crowe's Javert and a CGI tiger can hold a candle to the almost entirely snubbed launching pad for Jennifer Lawrence's breathtaking Katniss Everdeen or anything in Holy Motors? So what am I left to root for? In this, the Academy, for all its potentially corrupted vote-gathering, still landed on the side of my personal 1st place tie, two films undeniably different and undeniably related: Lincoln and Django Unchained. By a mile. Tony Kushner's script for the presidential biopic flawlessly set up its director, Steven Spielberg, for success with its eye for kinetic motion, layers of dense context and outright humor. Combined with Daniel Day-Lewis' superhuman portrayal and a portrait of race relations so similar to our present that it provides hope for our future, it embodies the magisterial history of the moment. Django, which largely takes places only a handful of years before the stately events of Lincoln – though, crucially, set in the heart of slavery-era Mississippi not Washington, D.C. – highlights the progress of those few years by illuminating in spectacularly visceral terms the horror, the mass delusion Lincoln could only hold over his cabinet through words. The two films, unbeknownst at the time of their making, strengthen each other. I don't know if either directorial titan has acknowledged as much in public, but it's a wonderful coincidence worthy of JGL's wonderful coincidence-prone Robert Lincoln. If I had to pick one, however, the Oscar would go to Django Unchained. I've rewatched all of QT's features in between Django viewings, and believe me, I never thought I'd say this, but it's his best film.
And that's that.
The 85th Oscars coverage airs Sunday night at 7pm on ABC.