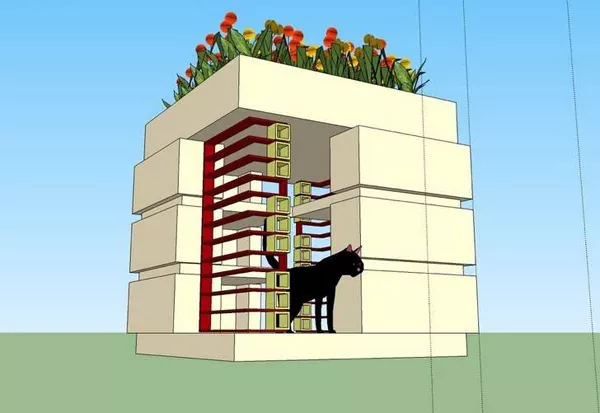 Community cat café: architect's rendering via Florida Southern College
Community cat café: architect's rendering via Florida Southern College
Students at Florida Southern College in Lakeland may not be attending classes with their feral feline friends, but campus kittehs are one step closer to experiencing the classic college experience: living in the dorm.
Catster reports that six small structures will house the community of feral cats that currently reside freely on the campus, and will serve as resting places where the cats can get food and water. The tiny buildings, referred to by college officials as "community cat cafés," will measure 5 feet high and 3 feet wide, and they'll even match the rest of the Lakeland campus designed by architect Frank Lloyd Wright -- they'll be built of the same geometrical concrete blocks.
Most of the feral cats are already neutered and vaccinated. They will be fed, watered and monitored by FSC's chapter of Alpha Chi Omega sorority. Let's just hope that these cats manage to put down the catnip and get to class once in a while.