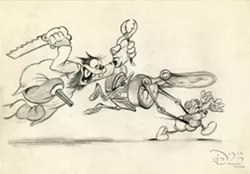 LOLCats have nothing on old Disney sketches.
LOLCats have nothing on old Disney sketches.
Check out this Mickey Mouse sketch from the 1930s released recently by the Disney Archives. It's by artist Ferdinand Horvath and it was drawn as part of a never-finished cartoon short that was to be called "Mickey's Toothache." According to the Disney Insider blog, it's going to be traveling to various cities around the country from March 1-April 7 as part of D23?s Disney Fanniversary Celebration, and it shows an early version of Mickey Mouse (old school Mickey looked much more rodent-y than today's anthropomorphic smiling chubbster) running from what the Insider calls a "REALLY scary" dentist chair.
Uh, forget the chair. There's a peg-legged cat wielding a handsaw and a pair of pliers chasing a terrified Mickey down. That's some serious Itchy and Scratchy level mania right there. It's no wonder that the cartoon short this sketch was designed to be part of was never completed.
And just because, here's a pic of a couple of some old-school Mickey and Minnie style kids' toys, found in an antiques store up upstate New York this winter. Ah, the good old days. When the best violence was found in cartoons and the toys were designed to give kids nightmares.