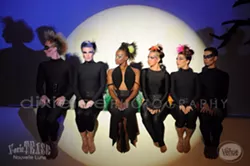 Almost 6 years ago, I first attended VarieTease's Carnivale at the Orlando Fringe and declared it "two words: fu@king mind-blowing," a grammatically ambiguous quote destined to live forever on advertising posters. Last Saturday night I experienced a similarly ecstatic sensation, though on a deeper level, seeing an encore of VarieTease's Nouvelle Luna at The Venue. Back in 2007, I was spellbound by the spectacle of VarieTease's eye-popping first production. This time, I was seduced by the maturity, both aesthetic and choreographic, that creator Baby Blue Star has brought to her latest work.
A loose storyline, inspired by Blue's personal journey in 2011, involves despair, debauchery, incarceration, and eventual redemption. Avian imagery, rendered in impressionistic monochrome with occasional splashes of color, evokes metaphors of "the little birdie who told a secret" and "stool pigeons," ending with Blue as the bird in a gilded sex-swing.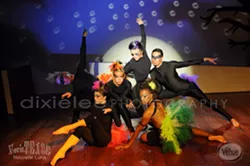 Blue puts her classical dance training to good use, and her cast -- comprised of both old favorites like Tymisha Harris and some promising newcomers -- demonstrate technical facility in both balletic solos and energetic pop ensembles. Jack Krieger, the standout new member, possesses an impossibly tall 'fro-hawk and an excitingly eccentric movement quality. And, as always, I thank Blue for introducing me to some exciting new music; who else would think to merge Muse, Florence + the Machine, George Winston, and Daft Punk's Tron: Legacy score into a single soundtrack?
Cohesive and consistently compelling without becoming campy or cloying, Nouvelle Luna feels like a new, more sophisticated direction for VarieTease. If so, I can't wait to see where their journey leads.