source: milwaukeebreweries.wikispaces.com
source: milwaukeebreweries.wikispaces.com We've been thinking a lot about beer lately. So much so that we've decided to dedicate an issue to it next week (first potentially-annual-depending-how-this-one-goes
Orlando Weekly
Beer Issue hits the streets March 13). To get in the right frame of mind, we've been researching (ahem, Googling the hell out of) all things beer over the past week. And in the process, we've dug up some old beer ads that are fascinating and sometimes a little bit infuriating. Take the image above, for example, courtesy of Schlitz beer ... the good little wifey's been slaving away at the stove to make her hard-working Ward Cleaver a delicious meal of things fried on a pan, but apparently she doesn't know how to use an electric stove, so she burned the meal. Fortunately, her loving husband would rather have what we used to call in my house BFD (Beer for Dinner). Problem solved.
Then there's this next one, courtesy of Blatz Beer.
At first, this one seemed like a hoax, but it appears to be legit. Blatz brewery, by the way, used to be one of the big Milwaukee breweries, along with Pabst, Miller and Schlitz. But in 1958, it was purchased by Pabst. Anyway, on to the ad. It reads, "A case of Blatz Beer in your home means much to the young mother, and obviously baby participates in its benefits. The malt in the beer supplies nourishing qualities that are essential at this time and the hops act as an appetizing, stimulating tonic." These days, that kind of advertising toward children would never fly, however, beer continues to be an appetizing, stimulating tonic for a lot of adult babies. So there's that.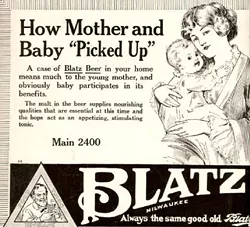 source: milwaukeebreweries.wikispaces.com
source: milwaukeebreweries.wikispaces.com
Can't tell whether this ad campaign is trying to target
housewives who deserve a nice, cold Bud after cooking up a ridiculous meal for the family, or husbands who thought that women holding platters of meat were hot. Probably both.
source: budweiserforthewin.wordpress.com/
source: budweiserforthewin.wordpress.com/
Rheingold beer – apparently, there was a point when people cared whether their beer was "dry" – featured lots of pretty girls doing all-American things in their ads. Like holding onto bulldogs ...
source: ebay.com
... and guns.
Rheingold also used to crown a "Miss Rheingold" each year for 25 years, and it was wildly popular. You can read up on the tradition
here.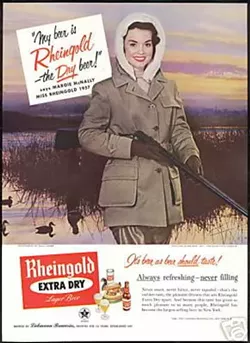 source: beverageunderground.com
source: beverageunderground.com
Utica Club Beer from Utica, N.Y.
had its own theme song, which I used to like to play on the jukebox at the old
Palais Royale
in Albany, N.Y.
R.I.P., Rocky
.
Utica Club
also had some truly odd commercials featuring talking beer steins.
While we're on the topic of songs,
remember the jingle for Colt 45 Malt Liquor? Yes, I know, technically not a beer. But the song is stuck in my head now.
And we started with Schlitz,
so let's end with Schlitz. Apparently, it's not only good for dinner – it also makes for a great midnight snack.
source: www.mibepa.info