Photo by Epic Comics
BBC America calls out Epic Comics as "clearly geniuses or magi or mageniuses or something."
They didn't actually invent a time machine, but damn close. BBC America says that this Doctor Who spacecraft/time machine doubles as a soda vending machine.
"If you want Sprite, you press the current Doctor's face. The Tenth Doctor will get you Pepsi, and the Ninth will get you Coke. Pressing the button with the Eighth Doctor's face on gets you Diet Coke, and the Fourth Doctor is Mountain Dew."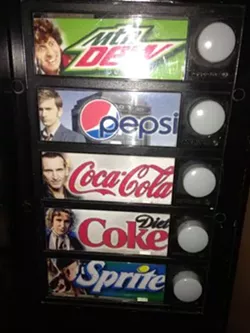 Photo by Epic Comics
Epic Comics posted a gallery and statement for a vote on what the new time traveling-soda machine should hold inside.
"While we didn't travel back in time to bring back Crystal Pepsi or Surge, we feel our fans should have some say in what our TARDIS holds. Make sure you vote in our polls to let us know which drinks you would like Epic to carry the most."
Even though they jest, Epic Comics should carry discontinued sodas, considering it is a time machine. How about the lava lamp soda, Orbitz?