For the third year in a row, we convene in these pages with our crystal ball and attempt to gaze into the future of the toughest, most uncertain type of film that there is to gauge: foreign films. Things have changed slightly since our last installment though. Most notably Netflix's streaming prowess has grown by leaps and bounds, overtaking both porn and bittorrent as North America's largest source of internet traffic. They had some hiccups along the way, but with their brand  firmly installed as the premier site for streaming video it has brought an ungodly amount of foreign films to our eyes. It's cheaper to program than major Hollywood films, for one, and there is the good, the bad and the ugly like anything else, but it's been a boon, leveling the playing field for people who don't care about
Iron Man
a little. Furthering that, VOD has become a major force in the distribution of films, as the studios and indies finally come to terms with the new world of digital media consumption and decided that they finally wanted to monetize it. Computer, TV, PS3, XboX, Roku, AppleTV -- you can find pretty much any movie at any time on any of them these days, and it's only going to get better from here on out as compression gets more efficient and broadband tubes get broader. So much of we hear about from around the world sounds so good, but it's all about timing and luck when it comes down to us getting the opportunity to see them. It makes it difficult to guess, but we try.
From Up on Poppy Hill - Goro Miyazaki (Japan)
Directed by Goro Mizyazaki and co-written with his father Hayao,
From Up on Poppy Hill
is the latest feature animation from Studio Ghibli. The film, slated for a March release, is a departure from the typical stories of magic and heroism that Ghibli is so well known for around the world, but its hardly a negative. Poppy is more of a nostalgia trip though, going back to a provincial sea-side high school in the turbulence of the late 60s, and a strange little story of family and first love that happens in the midst of a small would-be revolution.
Atilla Marcel - Sylvain Chomet (France)
It's a bit of a trend lately, successful animators making the leap into live action and
Triplets of Bellville
director Sylvain Chomet is the latest in the long line. The French animation genius had a bit of trouble with his last film,
The Illusionist
, which adapted a scenario written by Jaques Tati to animation. He should find no trouble with Tati's estate with Atilla Marcel, a musical comedy about a man traumatized by the death of his parents and his aunt's overbearing dreams for his life, but it's a tough leap to make. Just ask Andrew Stanton.
God Help the Girl - Stuart Murdoch (Scotland)
By the time anyone ends up getting to see this film, it'll be close to 5 years since Stuart Murdoch, frontman for the Scottish band Belle & Sebastian, released the first God Help the Girl album. The sublime album is a loosely weaved soundtrack of pop diddies that lays out the blueprint for the film, which follows the emotionally askew Eve (Emily Browning) who is just out of the hospital as she wades through a dreamy, escapist summer with musicians James (Olly Alexander) and Cassie (Hannah Murray). When Murdoch announced it I sort of rolled my eyes, thinking it would never come to fruition, but here we are.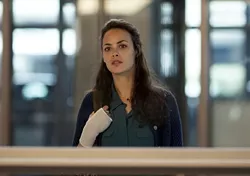 The Past - Asghar Farhadi (Iran)
Asghar Farhadi caused quite a stir with his Oscar winning drama, A Separation. Can lightning strike twice for the Iranian director? He's moved his story to France, where an Iranian girl (played by
The Artist's
Berenice Bejo) and an Algerian boy (played by
A Prophet's
Tahar Rahim) fall in love, though not much is known about the trouble they eventually face as of yet. More should be known around Cannes, assuming it's ready in time.
The Grandmaster - Wong Kar Wai (Hong Kong)
We talked about Wong Kar Wai's long-awaited martial arts epic about Grandmaster Ip Man, the man who eventually trained Bruce Lee, and the martial arts world that surrounded him last year, but then -- as WKW is known to do -- he decided to reshoot much of it, pushing back the release date over a year. Several Tony Leung broken arms later, it looks like we'll finally see it hit festivals this spring, maybe theaters by the end of the year. Unless he decides to reshoot it again.