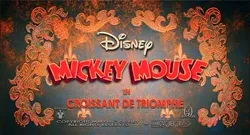 Here in Orlando, the city built on Mouse money, we're used to seeing Mickey as an underpaid actor in an uncomfortable oversized outfit, or perhaps a pricey plush souvenir. Kids know him as the hero of the Fantasmic! show if they are lucky, or the awkward computer-generated host of the Mickey Mose Clubhouse if they're not. And a handful of us old-timers remember when Mickey actually appeared in hand-drawn animations, from Steamboat Willie and Fantasia through Mickey's Christmas Carol and Runaway Brain.
Mickey's been mostly absent as a star of traditionally-animated cartoons for over a decade, but this week the Walt Disney Company announced the surprise return of their Big Cheese to the small screen. Beginning on June 28th, the Disney Channel and Disney.com will reveal 19 brand-new Mickey Mouse shorts, as reported for Huffington Post by Jim Hill.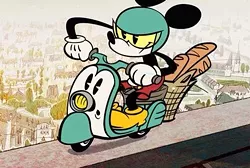 Unusually, the new cartoons will feature character designs for the Fab Five (Mickey, Minnie, Donald, Goofy, Pluto) that reflect not their current curvy incarnations, but the lean, angular "pie-eyed" renderings of the 1920s and 30s. These new shorts, which blend an art-deco feel for the protagonists with a stylized 1960s look in the backgrounds, are being directed by major modern kid-cartoon creators like Aaron Springer (Spongebob Squarepants) and Clay Morrow (Powerpuff Girls).
Each short will take Mickey & Co. to a different corner of the world, from NYC to Tokyo. The series doesn't officially arrive until June, but the first episode -- featuring Mickey flying through Paris on a scooter to find croissants for Minnie's cafe -- has been leaked online. Watch Croissant de Triomphe below, and see if you think that this is a fresh new take on favorite characters that had frankly gotten stale, or just another of Disney's cynical recyclings.
[youtube fhjTlW10cUg]