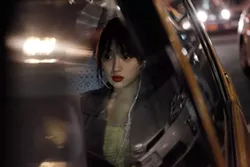 Like Someone in Love - Abbas Kiarostami (Iran via France via Japan)
Among Kiarostami fans, the Tokyo-set 
Like Someone in Love
 caused something of a split. Though he's made films outside of Iran before, it's a bit of a departure for the Iranian director, whose usual mode of working involves searching out the core of a complex idea told in a simple way. Like Someone in Love is a bit more straightforward than that, telling the story of a university student who becomes afraid when he fiance finds out she is selling her body to pay for college. After a violent outburst from him, she hides with an elderly John, a sociology professor, who wasn't looking for sex at all. The 2012 Palme d'Or candidate is a visually lush film, as any film in Tokyo seems to be,  but does have that simple Kiarostami set up to it, and all of the takes are long, just like the conversations. 
Like Someone in Love is available now on Brighthouse VOD.
Reality - Matteo Garrone (Italy)
The follow-up to his 2008 crossover mob hit, 
Gomorrah
, Rome-based direct Matteo Garrone went in a completely different direction, aiming him camera at the story of a simple fishmonger from Naples who competes on
Grande Fratello
 -- the Italian version of the reality show 
Big Brother
.
Reality
also debuted at Cannes last year, where it won the Grand Prix Award (which
Gomorrah
also won in 2008). 
The Look of Love - Michael Winterbottom (UK)
There is a really simple rule for evaluating whether or not to see a Michael Winterbottom film: even when he makes a bad film, there is no such thing as an uninteresting Michael Winterbottom film. A similar rule could be applied, in my opinion, to Steve Coogan, who stars as strip-club-and-porno-mag icon
Paul Raymond
, the English answer to Hugh Hefner -- or maybe Larry Flynt? I'm not all that I'm not all that familiar with with Raymond, not being a 50 year old Englishman, but I do know that when Winterbottom and Coogan hook up, as they have before in 
24 Hour Party People
,
Tristam Shandy: A Cock and Bull Story
and
The Trip
, it's certainly not something to miss.
Soshite Chichi ni Naru ("And Then I Became a Father") - Hirokazu Koreeda (Japan)
I haven't made much of a secret about the high esteem I hold Koreeda in. From the first moment of seeing 
After Life
 on DVD while I was in still in film school (something magic, or at least heightened, about those movies it feel like), Koreeda has had a powerful hold on me. It's a not a personal thing -- I've read very few interviews with him outside of DVD supplements. Honestly, I don't know much about him as a person, only as a director and his uncannily deft hand at capturing the exact moment of perfect emotions, whether those emotions are ugly or pure. I don't know much about it except that it's a switched-at-birth drama starring the musician Masaharu Fukuyama, but Koreeda's films aren't usually about their plot anyway, so it doesn't usually matter what they're about. To look at other Koreeda film premises and match them to the film, you would find them all to be deceptively simple, but 
Air Doll
 aside, he really hasn't had a major let down in his filmography yet. It's probably a little hopelessly optimistic to think this -- or his recent tv miniseries, 
Going My Home
 -- will find its way over here in 2013, but I am hopelessly optimistic sometimes. http://www.youtube.com/watch?v=NcQIvmR21VU
The Angel's Share - Ken Loach (UK)
I don't know why they're trying to sell this comedy about a couple of teenage Edinburgh losers who get wrapped up in a rare whisky heist as "Scotland's answer to 
The Full Monty
", but it looks hilarious either way -- if you can parse the thick accents anyway.
The Angel's Share
 -- a term for the small percentage of whisky that evaporates during its many years in the cask -- debuted at Cannes last year, where is was also picked up by Sundance Selects. There isn't a release date yet, but Sundance won't sit on this for long.