This terrible news just came in via Big Wheel Provisions' newsletter. Well, terrible for us. Probably fantastic news for chef Tony Adams and his crew:
"We have decided to close Big Wheel Provisions for the season, and take on a project up north, on Nantucket.  I will be the head chef at a restaurant called the Company of the Cauldron, and Donovan, our #2 here, will also be my Sous Chef there."
April 15 will be your last chance to get a taste of the locally sourced, uniquely prepared dishes Adams and co. have been serving every Monday night at the Audubon Park Market. Then Tony and Donovan will pack it up and head to Nantucket.
We don't mean to make this all about us, but ...
... Who will serve us giant hot dogs, which we named Best Hangover Cure in our Best of Orlando 2011?
photo by Rob Bartlett
... How will we get a hold of the bacon salt we've grown to love?
apmarket.wordpress.com
... What will become of the Bacon Off?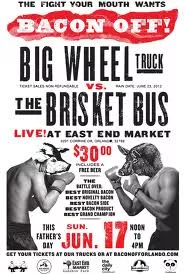 Best of luck, guys. Orlando will miss you.