I'm sure I'm not the only one to have noticed how wickedly appropriate it is for 
Lincoln
to
come out on DVD and Blu-ray
the same day the Supreme Court considers Proposition 8.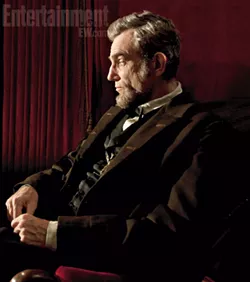 "Now what do I do about this asswipe Alito?"
"Now what do I do about this asswipe Alito?"
The irony could be grasped quite easily at The Howard University School of Law, whose amicus brief against Prop 8 pointed out something that should be obvious: The "arguments" against same-sex marriage are almost identical to the ones used not all that long ago to outlaw interracial marriage
and before that, marriage between African-Americans.
But if Senator Lindsey Graham would note the irony is anybody's guess. Late last year, Graham tried to use Lincoln as "evidence" that the fundamental right to take a spouse should be left up to a popular vote, the same way slavery was (in his interpretation) brought to an end.
"Go watch 'Lincoln,' a great movie," he advised Piers Morgan. "The people decided.
If you want to propose a Constitutional amendment legalizing same-sex marriage and it passes, that's the law of the land."
So for once, it isn't Steven Spielberg pushing the simplistic view of history. Actually, the movie Lincoln doesn't come within 50 miles of suggesting that "the people" decided to end slavery, and that was that. Instead, it shows quite clearly that the process of passing the 13th Amendment was an almost unprecedented feat of political arm-twisting, one spearheaded by a President with the lawyerly skills to to bring the Constitution into line with the demands of history as he himself perceived them.
Those "people" Sen. Graham lauds – the great, infallible majority? They were the ones who had decided black Americans didn't even have the right to enter the halls of Congress until the day the amendment was debated.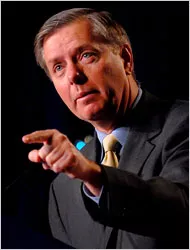 Graham, getting his best butch on.
Graham, getting his best butch on.
Now, I don't expect a modern-day Republican to recognize the true lessons of Lincoln (the man or the movie), any more than I expect a coherent statement on gay rights to come out of the mouth of Graham (who, if the persistent Beltway scuttlebutt can be believed, is one of the most hypocritical, self-loathing closet cases in our government). So when somebody like him punts a moral decision to "the people," our automatic response should be "Which people?" The people protesting outside the Supreme Court in opposition to Prop 8, or those picketing in favor of it? The people who marched from Selma to Montgomery to make ours a more just and open society, or the people who burned crosses and trained attack dogs to keep it one of white privilege? Just which America are we trusting here?
The answer is one we don't like to acknowledge, because it entails voicing a sentiment that's seemingly at odds with our view of an egalitarian society: There is such a thing as better people. We may all be born equal, but we don't stay that way. Some people simply conduct themselves in better faith, with more goodwill toward their countrymen, and with less room for fear and resentment as their personal motivators. Today, those people are hoping for the Supreme Court to affirm love as a universal right, not a privilege to be withheld by a spiteful and rapidly dwindling opposition front.
Simply put, the mantle of "we the people" rests more naturally on the shoulders of those who will allow themselves to love their neighbor.
"Say 'jungle fever' one more time. I dare ya."
"Say 'jungle fever' one more time. I dare ya."
Of course, it helps if they have some skin in the game. That was the true message of Lincoln to me – albeit one obscured by the fact that, like many Spielberg movies, the picture doesn't know just when to end. We really didn't need to know that (SPOILER ALERT!) Honest Abe was shot at Ford's Theater, because the film isn't about his life in its totality – just a specific and crucial period of same. In fact, the movie would have more aptly been titled The Thirteenth Amendment (unless some focus group thought that sounded too much like a sequel to The Fifth Element). As far as I'm concerned, the true payoff of Lincoln doesn't even involve the President himself. It arrives when Tommy Lee Jones' Thaddeus Stevens comes home, crawls into bed and reads the amendment to his black mistress. Title card: "All politics is personal. The End."
Slavery ended because there were just enough Thaddeus Stevensesin the world, and they weren't going to let anyone tell them whom they could spend their life with. Anti-gay persecution will wither and die for the same reason. All of the things we hold up as greater than ourselves even when they're holding us back – including the Constitution and the Bible – eventually have to get out of the way and let progress take its course. Why? Because love makes them.
The arc of history is long, but it bends to our will.
Follow me on Twitter: @Schneider_Stv