Among the batch of press releases crowding my inbox this morning: "J&D's Foods is pleased to announce the launch of Bacon Sunscreen and Bacon Condoms!  Yes, the world's first Bacon-scented sunscreen and Bacon-looking-and-tasting condom.  You're welcome." Um...
"Bacon Sunscreen is enriched with SPF 30 and rich, porky moisturizers," the release continues. "... J&D's Bacon Condoms™ make your meat look like meat."
Please, just stop. Stop with the bacon worship, guys. Yes, bacon tastes good, but if an innocent, inanimate (and yes, delicious) food product can be said to be SO OVER, bacon is right there.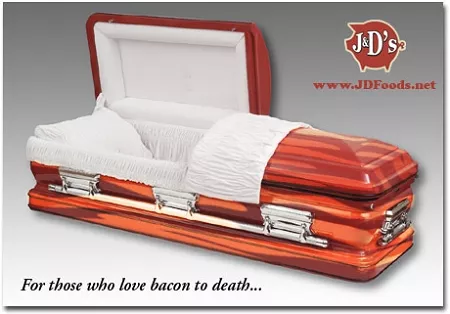 Dead trend.
The point where your aunt buys you a scarf that looks like bacon at Kmart is the point of no return: DEAD TREND.
JD's, when they aren't trying to break the internet with press releases for BACON SUNSCREEN and BACON CONDOMS and BACON BABY FORMULA and BACON LUBE (yes, really) and BACON COFFINS (Yes. Really.), is a good source, however, for bacon salt: a less-caloric bacon product that Orlando will be sorely lacking when Big Wheel goes away for the summer. (YOU PROMISED YOU'D COME BACK AND WE'RE HOLDING YOU TO IT, BIG WHEEL.)