Some fields die a little bit every time one of their avatars passes away. Rock and roll, for example, lumbers closer to extinction whenever another of its stars of the '50s, '60s or '70s leaves this mortal plane (increasingly, of natural causes). For 20 or so years now, that genre has simply failed to replenish itself with new personalities of any genuine consequence.
"A legion of unqualified imitators? Bring it on!"
"A legion of unqualified imitators? Bring it on!"
Roger Ebert's death yesterday made me realize that film criticism is in the same boat, but for a somewhat different reason. While nobody -- okay, nobody smarter than Nickleback -- wants to be a rock star anymore, absolutely everyone fancies himself a movie critic. Thus, it has essentially ceased to be a thing. And Ebert unwittingly played a big part in that diminution.
The first time I heard of Ebert was in the back pages of CREEM Magazine, in a review of his and Gene Siskel's TV program, Sneak Previews (later At the Movies). The magazine's TV reviewer noted that Sneak Previews was such an engaging show because its stars came across as regular Joes, not much smarter about cinema than the viewer.
How Ebert and Siskel would have reacted to that "compliment" was anybody's guess, but it had a lot to do with the culture of armchair (or at least aisle-seat) film punditry the show spawned. Suddenly, film critics weren't seen as effete, essay-issuing snobs, but as ordinary, popcorn-snarfing types who liked to dish about flicks the same way everybody else did. For all the complaints that Ebert in particular was fostering a cult of personality that yielded him inordinate influence over the poplar reception (and sometimes even the construction) of American movies, his rise also inspired a legion of imitators of questionable ability. Eventually, every newspaper had to have its "own" Ebert (or, worse, its own Ebert and Siskel, or Roeper, or whoever). And TV programmers were scrambling to fill open timeslots with At the Movies knockoff series (including a memorably awful, short-lived local attempt featuring the Sentinel's reviewers, Roger Moore and my good friend Jay Boyar).
Concurrent with that gold rush, the job requirements dipped precipitously. I've always felt that a good film critic has to possess three qualities: a better-than-average knowledge of the medium, an interesting way of looking at the world and a compelling way of expressing it. You could have those attributes in almost any ratio and still be worth reading. But in many mid-markets, the term "print film critic" became synonymous with "the bitter old queen who used to write about local theater, but who made so many verifiable mistakes that we put him on a beat where he could do less damage."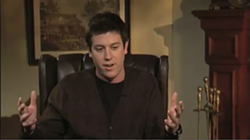 By default, Ben Lyons is now the most respected movie critic in America.
By default, Ben Lyons is now the most respected movie critic in America.
About 10 years ago, when I was something close to a full-time movie reviewer, I took part in a Florida Film Festival panel that brought together film writers from most of the major papers in the state. What I remember most about that gathering was one of our hosts posing a question that sliced through the air like a meat cleaver:
"Why do we need so many of you guys?"
The best any of us could do was to mumble some answer about the need for local perspectives, but I think we all knew that was bullshit. None of us was using our review of Daddy Day Care to expose the plight of one of our area's underfunded "F" schools. As I recall, a few of the panel participants countered that the glut of newspaper film writers wasn't the problem: It was the proliferation of online critics of questionable pedigree that the public had to watch out for. Why, some of those guys weren't even using their real names! (Sniff.)
At the time and for several years thereafter, that struck me as a pathetic self-justification. As a reader, I had seen pseudonymous online scribes offer commentary that was infinitely more insightful and entertaining than what some of the mainstream print critics were capable of. (See "bitter old queen," above.) Bring on the Ain't it Cools, I thought.
I now realize I was making the grave mistake of assuming that Sturgeon's Law – "90 percent of everything is crap" – applies equally across all platforms. It doesn't. However low the standards of newspapers sank, they at least had editors to maintain some basic level of veracity and aptitude. In contrast, look at the Rotten Tomatoes page for any of today's wide releases.  Click through the reviews. You'll see that a big chunk of them are written by -- let's dispense with pleasantries, shall we? – complete idiots who haven't an idea in hell of what they're looking at. And there isn't an authority figure around to tell them different, or to make them stop. Ain't nobody working the quality-control desk at MormonMovieMom.com, I can assure you.
So what we now have is less qualified, talented movie critics but more overall. As a society, we've once again committed the all-American mistake of thinking that "everyone is entitled to his own opinion" equals "everyone's opinion is as good as everyone else's." That's a hell of a price to pay for accessibility.
Ebert, to his credit, was too polite to point this out (at least as far as I'm aware). Instead, in his later years, he used the advent of tools like Twitter to spotlight the efforts of lesser-known writers who had earned his approval (including myself, for which I'll always be grateful). And he lent his voice to causes that went beyond mere cinema-boosting. He took some heat for that, but as I've written before, I think he was just acknowledging the greater sway that visual entertainment holds over the multifarious aspects of modern life. James O'Keefe is a moviemaker in every sense that Uwe Boll is; the difference is that, when Uwe Boll makes a lousy movie, it makes people want to stop seeing movies, but when James O'Keefe makes a lousy movie, it deprives scores of Americans of their right to vote.
Say what you will, but this movie never stopped a 90-year-old black woman from voting.
Say what you will, but this movie never stopped a 90-year-old black woman from voting.
Some people didn't want to hear Ebert talk about such subjects, but as far as I can see, following the through line between popular culture and public policy is the future of entertainment criticism (if it indeed has any). Now that we seem to have accepted the proposition that anybody with a secured domain and a big mouth can be a "film critic," the only way to reserve some meaning for the position may be to support writers who have the desire, let alone the ability, to tackle bigger issues. It's a responsibility they probably couldn't avoid if they tried, since popular entertainment – particularly film – is now the place where we as a people negotiate our shared values. (It sure isn't the pulpit; if it were, the weekend attendance at our nation's megachurches would be the big news story every Monday morning.)
So the next time you're tempted to ask a critic "Why don't you just talk about movies," think about Roger Ebert. Ask yourself how many people are doing that already -- and why you don't want to talk about anything else.
Follow me on Twitter: @Schneider_Stv