Our favorite hellbilly raises the dead on his finest haunting since his solo debut.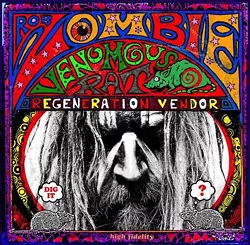 Alright, I'm finally going to admit it: I wasn't a fan of Rob Zombie's Hellbilly Deluxe 2. I thought it had all the experimental, ambitious tendencies in the world, but initially crumbled under the weight of its own title. It was a jack of all trades and a master of none, which makes the face-meltingly triumphant Venomous Rat Regeneration Vendor seem like the return-to-form for modern horror's poster-boy.
This time around, Zombie's adopted another veteran of the Marilyn Manson lineup, Ginger Fish. I don't know what kind of juice Mr. Fish brought to the studio, but VRRV reeks of reanimation for these undead badasses and struts its shit like nothing else out there. When Rob's rambling like a possessed Charles Manson cultist in "Ging Gang Gong De Do Gong De Laga Raga", he's at his absolute best and we're just along for the mutilated, shit-kicking party. Hell, they even crank out a hilariously-bombastic cover of Grand Funk Railroad's "We're An American Band" (you can almost hear them laughing at themselves in the background).
Sure, it's filled to the brim with troma-cheese lyrics, but tracks like "Behold! The Pretty Filthy Creatures" and "Dead City Radio and the New Gods Of Supertown" are so full of confidence and momentum, it finally clicked for me what was missing in the last few records. What Rob Zombie taught mainstream gore-hounds in the first place: Horror is FUN-AS-FUCK and deserves to be celebrated.