It's Friday at 4:15, and Billy Manes and I are the ONLY ONES left here in the Bloggytown offices. So, while Billy is finishing up this week's installment of Happytown, I am killing time. And since you probably are, too, I'll share with you my afternoon research.
Topic: How many famous people or characters are there whose names are Friday?
First, there's Joe Friday, fictional LAPD detective in the 196os TV series Dragnet.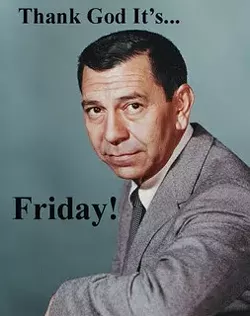 Friday was played by actor Jack Webb, who also didn't mind shilling for Chesterfields from time to time.
There was also Friday, one of the main characters in Daniel Defoe's novel Robinson Crusoe, about a castaway who spends something like 25 years on a remote tropical island where he encounters cannibals and mutineers. Crusoe's only companions are a talking parrot, a dog and a goat, until he comes across Friday. Friday had escaped from cannibals and Crusoe helps him evade his captors ... then in a sort of strange turn, he decides to make the grateful Friday his servant. And he names him Friday, because that's what day it was when he rescued him. Friday is later killed in a battle at sea in Defoe's sequel to Robinson Crusoe. Friday's been portrayed a number of different ways in movie versions of the book. I like this one because it makes Robinson Crusoe look like a deranged Santa Claus.
My favorite Friday is King Friday XIII from the Land of Make Believe on Mr. Rogers Neighborhood. King Friday is married to Queen Sara Saturday and has a son named Prince Tuesday. He hangs out with French tigers who talk, owls who stretch the truth and Donkey Hodie, who moved to the Land of Make Believe to build a windmill, but then moved to Someplace Else because King Friday didn't want a windmill in the kingdom.
I also turned up Friday Jones, tattoo artist to the stars.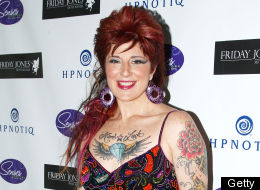 And finally, there's Freya, the Teutonic goddess of love, beauty and procreation for whom you could say Friday was named (Freya's Day). The best fun fact about Freya is that she drove a chariot pulled by two giant cats.
If you've got more Fridays to add to the list, comment below and tell me who they are.