Did you celebrate Earth Day by being extra green? Did you remember to take out your recycling and did you buy a rain barrel at the Earth Day celebration this past weekend, and maybe plant a vegetable garden in your yard? Good, you made this baby zebra happy.  He's so happy he's prancing for you. He thanks you for being so conscientious.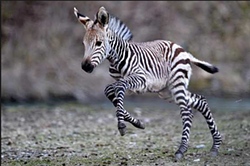 via imgur.com And these baby deer – they're happy because they know your Styrofoam containers won't spoil this insanely pristine and picturesque meadow they live in. See that one on top? He's downright gleeful. So happy that his eyes are crossing.
via imgur.com But this tiny octopus – he's skeptical. He is not celebrating, because he knows Earth Day is just one day, and it's almost over until next year. He's pretty sure, now that it's over, you'll be back to watering your lawn for hours on end and killing weeds with RoundUp.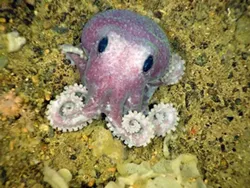 via imgur.com
This adorable baby hippo told him it wasn't like that – he totally loves humans, and he knows people would never be intentionally lazy and ignorant about the environment? See? This hippo knows people love baby animals.
via amazing-creature.blogspot.com/
Prove the baby hippo right. Earth Day is over, but that shouldn't be the only day when we're thinking about ways to live more sustainably and with less impact on the Earth. We live in a fragile peninsula here in Florida, and we need to be mindful of that year round. Think about all the chemicals you put on your lawn to keep it green, all of the water you use washing your car (or watering your lawn), all of the trash you produce then never think about again after garbage day. It doesn't just go away – it's all out there somewhere.
It's a very cliche saying, but try to make ever day Earth Day.
via amazing-creature.blogspot.com/
via news.discovery.com
Do it for these baby pandas. And for this teeny, tiny octopus.
via imgur.com
And for this even teenier, tinier octopus. He's so small he's practically just a speck.
via tumblr.com
Don't care for octopi? Then do it for this baby sloth.
via tumblr.com
Or for this baby seal who's so fat he can't do anything except blink his eyes.
senorgif.com
Or for this tiny monkey who thinks this stuffed animal is his mother.
tumblr.com
Or this bunny who thinks this  pit bull is his mother. I think the pit bull maybe thinks the bunny is her baby, too, so it's all good.
tumblr.com
But whoever you do it for, don't forget: Reduce, reuse, recycle. Plant your own vegetable gardens. Stop using dangerous chemicals and insecticides. Support your local producers. Treat the Earth like you'd want to be treated yourself. Do it for the baby animals. Especially this baby turtle, who just wants to be put down already so he can go swim in the ocean – the nice, clean ocean that you aren't going to pollute anymore, right? Right.