Here's a massive piece of street art that was created by European artists' collective the Weird. The piece, which was painted on the side of an old Monopol storefront in Luxembourg in the summer of 2012,
features
some of the most famous Disney characters (Bambi, Pluto, Chip and Dale, etc.) painted into a nightmarish freakshow parade – not unlike what your stuffed animals may have looked like to you after dark when you were a kid.
via neocollective.com
via neocollective.com
The Monopol had been vacant for two years, and it was scheduled for demolition to make way for new development. But before the building was torn down, the company that owned it opened the doors to graffiti artists from the Weird to transform it into something beautiful, even if only temporarily. Here are some detail shots of what they created.
via juxtapoz.com
via juxtapoz.com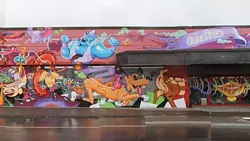 via animalnewyork.com
via animalnewyork.com
According to a post on Facebook, the Monopol and the Weird Disney mural were demolished in late January 2013, but you can still catch a documentary about the mural's creation on Vimeo. Much of it is not in English, but it's still worth watching, if only for the closeups of the mural being created.
GOODBYE MONOPOL from atypical on Vimeo.