The
George W. Bush Library
opens tomorrow. And there's actually more to the story than the chance for another joke about oxymorons.
Last Saturday's New York Times included a sneak preview of the library (full name: The George W. Bush Presidential Library and Museum) that offered some interesting tidbits about the place. For one thing, its multimedia exhibits apparently play up relatively minor figures like Andrew Card while de-emphasizing the likes of Karl Rove (guess there's still some bad blood over those 2006 midterms) and Dick Cheney (guess there's still some bad blood over, well, everything).
But what interests me most is the Decision Points Theater, an interactive exhibit. Visitors will receive brief rundowns of some of the crises Bush caused – excuse me, "faced" – and will then be asked to select from among a series of possible responses.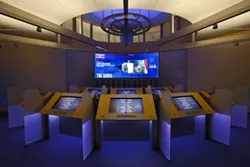 The Decision Points Theater: Touch your screen to shoot from the hip.
The Decision Points Theater: Touch your screen to shoot from the hip.
As unaccustomed as I am to using this phrase in connection with George W. Bush, I kind of like the idea. I'm all for reminding people that citizenship on any level is a series of choices, some of them tough. A few years back, the author Harlan Ellison created a Holocaust-themed video game in which players had to make decisions that corresponded with those the German populace faced under the Third Reich. As I recall, the idea was to force the player into dealing with situations in which no solution could be identified as 100 percent correct. Critics howled that the game was in poor taste; the gaming industry went back to making Halo, and all was right in the Lanza household.
I still think this sort of test is a good start down the road to full moral engagement -- although the format itself has some unavoidable limitations. As the comedian Robert Klein once noted, the multiple-choice test is a fool's paradise. You think you have a one-in-four chance of getting the right answer; you think that, if you're a fool. Yet students around the world love this sort of exam, because it offers more bluffing room than an essay. When I was in school, we referred to the act of filling out a multiple-choice answer sheet arbitrarily as "Christmas-treeing" it (which, in the context of the Bush library, gives a whole new meaning to the phrase "White House Christmas tree").
In the museum: the actual pencil Bush used during Katrina.
In the museum: the actual pencil Bush used during Katrina.
The bigger problem down the road is that a multiple-choice test doesn't just discourage creativity and innovation, but renders them impossible. That may not seem terrible when the subject is first-semester biology, but what about when it's the stewardship of the most powerful nation within a rapidly changing world? Naïve as it might sound, we'd really like to think of the presidency as entailing more than picking from a handful of scenarios prepared by a coterie of trusted handlers. (The Bush Library is even stingier on that front than the FCAT, narrowing the list of options to only three.)
Also, in inviting library guests to pit their decision-making prowess against Bush's, his people are offering an inadvertent reminder that history has already proven almost all of his choices to have been wrong. The Times article says that, after visitors have made their selection, they are shown a video explanation of what actually happened. But what if they chose to follow all of the paths Bush shunned? Cue booming voice from the overhead P.A.: "You have opted to not invade Iraq. You have just saved thousands of lives and trillions of dollars. Good answer! Number One answer!" (Family Feud clap from the Joint Chiefs of Staff.)
The Decision Points Theater is named after Bush's 2010 memoir; taken together, they constitute an attempt to divert our attention from the calamity of his mistakes and focus it instead on the alleged enormity of the challenges that set the stage for them. Even when he was still president, he could barely get through a press conference without reminding us all that the job he had bullied his way into was a difficult one indeed. Yet that message is all but negated by the idea of Decision Points – The IMAX Experience, which puts his problem-solving process on the same plane with that of a tourist who gets just three minutes' worth of briefing on a major issue and then has to press a button. We hope our presidents receive background deeper than that, and the implication that one of them didn't – because he just couldn't be bothered – is a suggestion that certain members of the touring public will likely find upsetting. (Relatives of 9/11 victims, for example.) Instead of firming up Bush's yearned-for image as the decider-in-chief, the "If You Were 43" conceit of Decision Points raises an idea that's the exact opposite: Anybody off the street could have done as good a job as this guy.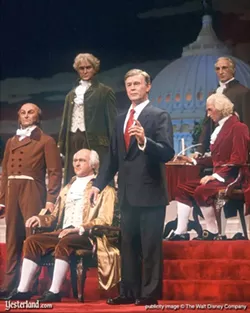 In Orlando, shoe-throwing is the closest we get to interactive.
In Orlando, shoe-throwing is the closest we get to interactive.
And that's simply a case of reaping the whirlwind. The Bush years represented the apotheosis (or so we then hoped) of a know-nothing strain of American politics that disdains the very notion of informed expertise. The GOP had sat up and taken close notice when H. Ross Perot spoiled an entire election by positioning himself as a man who deserved to run a government simply because he hadn't yet had the chance to ruin one. (He may never have broken a toilet, either, but when mine clogs up, I'm still calling a plumber.) In response, the Republican party of the 21st century has run headlong toward a mutant brand of populism so extreme in its anti-intellectualism that it views any sort of information set as a liability and an inability to name world capitals as an asset. Our elected representatives -- they're just as willfully uninformed as us! Happy now?
Bush can't have it both ways. He can't cast himself as an exceptional leader while he keeps (whether intentionally or not) pushing non-threatening unpreparedness as a marketing "strategery."  Tomorrow, when the ribbon is cut on his library and the first guests wander into the Decision Points Theater, he will have cemented his legacy as a guy who just crossed his fingers, filled in the bubble next to "All of the above" and hoped for the best. At least he made his mark dark enough.