At the risk of sounding like a lefty cliché, I love me a good
boycott
.
"The needs of the many, Lieutenant, outweigh those of the fucktards."
"The needs of the many, Lieutenant, outweigh those of the fucktards."
I love it when progressive groups boycott a supermarket chain over the exploitation of its produce growers. I love it when women's groups boycott businesses that advertise on misogynist hate radio. And I even love it when fundamentalist Christians boycott Harry Potter products because they object to positive portrayals of magic.
I love it because all of those folks are using their purchasing power – both individual and collective – to signal the form they'd like their society to take. And here's the key: They're doing it instead of appealing to the government to simply outlaw the stuff that bothers them. That's the real free market we hear so much about, alive and in action.
I had cause to revisit those feelings yesterday, when I saw that the Regal Cinemas chain had experienced serious losses in the first quarter of 2013. Their net income, in fact, was less than half of what it had been in the first quarter of 2012. That news seemed to arrive fairly hot on the heels of the last story I had read about the chain, which was that they had cut employees' hours to avoid paying the health insurance mandated by Obamacare.
Now, I'm not positing a cause-and-effect relationship between the two stories: The news of Regal's corner-cutting measure went viral after the quarter had already ended. But it's not unrealistic to expect that, in the near future, the company's problems might deepen as customers punish them at the box office for making their hirelings walk the plank. Just ask Darden Restaurants, which made a big stink about the allegedly onerous nature of the ACA and what it was "forcing" them to do – only to have to reverse course when the resulting public backlash hit them right in the wallet. Indeed, Regal's Facebook page is already filled with boycott threats.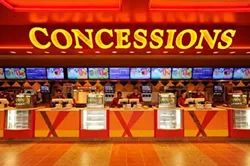 Think carefully: Do you want this stuff handled by a dude with bird flu?
Think carefully: Do you want this stuff handled by a dude with bird flu?
The masses, it seems, are wise to this sort of corporate terrorism. No matter how the average Joe might feel about Obamacare (or, more to the point, how misinformed he might be about it), he knows that, when a business says it has to take unfortunate measures to compensate for unfavorable conditions, it's usually setting up a straw man for some cheap-assing it had wanted to do all along.  (Particularly at a time when, it's no secret, corporate profits are at a record high.)
Given the extent to which the public tarred and feathered Darden, I'm surprised that Regal is even attempting a similar stunt. Then again, this is a firm that cheerily pointed out in its earnings report that it had mitigated its losses at the ticket counter by charging its remaining patrons more for snacks. Shame doesn't seem to be a particularly important part of their M.O.
The next few months will be crucial in determining the tangibility of the anti-Regal campaign. If, after every last cent of candy-counter upcharging has been factored in, the chain's summer take still exhibits a steeper decline than that of the competition, we'll know that the angry masses followed through on their threat to simply enjoy their third Hangover someplace else.
Now let's be clear: I'm not saying you, the reader, should absolutely boycott Regal until they knuckle under. (Hello, Orlando Weekly lawyers!) But IF you'd like to see them brought low –-if you'd like to see any business made to suffer for its hostage-taking impulses – there are some things you have to do.
First, you have to be public about it. Don't just silently withhold your money. Send emails. Sign petitions. Tweet. Post. Don't give the craven bullies of the boardroom a chance to claim that their worker-penalizing tactics are an unavoidable response to depressed income, rather than the reason for it.
Second, you have to say strong. Don't give in and give up your dollars the minute it's less convenient to patronize any of the competitors. Don't rationalize away that weakness by convincing yourself that depriving any company of income is just going to hurt its employees in the long run. As the Darden example showed, businesses will pull all manner of shenanigans in order to cut costs, but will reconsider those shenanigans awfully swiftly when they're faced with the possibility of actually having to close up shop.  A corporate terrorist will gladly shoot the hostage; he will not shoot the hostage and himself.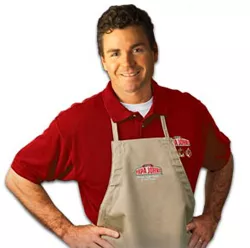 "Until Obamacare covers surgical hair replacement, y'all can just kiss my anchovies."
"Until Obamacare covers surgical hair replacement, y'all can just kiss my anchovies."
And finally, be willing to pay more. It would be nice to think that a CEO who's been prevented from short-changing his employees will just take the money out of his own pocket. It would also be nice to think that a gay unicorn will someday win Wimbledon. Corporations' willingness to act as good citizens depends on our own willingness to reward them for it with our dollars. When a Papa John announces that he will "have to" raise his prices in order to treat his employees like human beings, you say, "Yes, I will gladly pay a few cents more for your crappy pseudopizza. Because those few cents matter less to me than the medical treatment your driver will need after I kneecap him for showing up late and with the wrong order."
Yes, it's all about community spirit. We're all in this together, sickos, whether we're delivering the nuclear pizza or scarfing it down; whether we're queuing up to see Star Trek Into Darkness on opening day or listening to its closing-credit music for the 45th time while we sweep up Jujube vomit. It takes a village to care for a village.
And sometimes it takes a boycott.
(Lawyers! Love ya!)
Follow me on Twitter: @Schneider_Stv