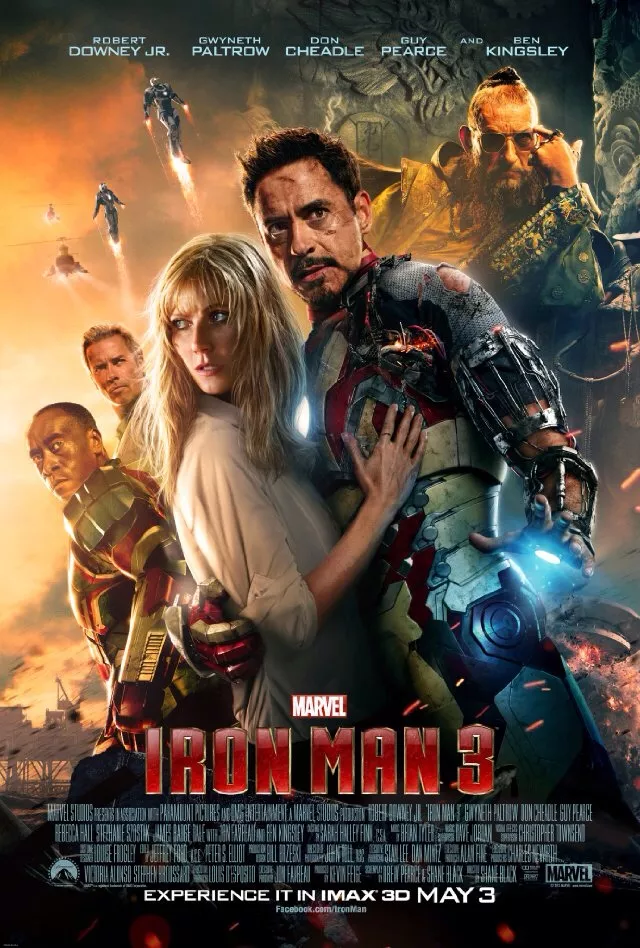 It's been half a year since Marvel's Avengers trashed Manhattan while saving it from an alien invasion (and cleaned up $1.5 billion in worldwide box office), but the superhero team's most popular member is still a self-proclaimed hot mess. Iron Man 3 (or "Iron Man Three" as the retro-styled closing credits claim) finds wisecracking billionaire Tony Stark (Robert Downey Jr.), a.k.a. Iron Man, suffering from PTSD-induced insomnia and anxiety attacks after his near-death experience in New York.
Long hours in the lab perfecting his latest suit of arc-powered armor (now with the convenient new ability to fly around autonomously, coming at Starks's call like a rocket-powered puppy) have left his relationship with live-in love Pepper Potts (Gwyneth Paltrow) in jeopardy, and the President (William Sadler) has turned to Col. Rhodes (Don Cheadle) to defend the nation with the War Machine super-suit, rebranded as the more marketing-friendly Iron Patriot. In the midst of this mess, a byproduct of Stark's playboy past rears its head: Aldrich Killian (Guy Pearce), a think-tank geek Tony dissed a dozen years ago, resurfaces in league with The Mandarin (Ben Kingsley), an enigmatic terrorist spouting generic anti-Western dogma and sporting an army of spontaneously combusting super-soldiers.
Writer/director Shane Black, who helmed Downey in 2005's superb Kiss Kiss Bang Bang, brings sharp snarky humor and some welcome psychological depth to the Iron Man franchise, which faded in an exhausting second installment after the exhilarating original. Iron Man 3 isn't quite the "greatest comic book film of all time" (Superman II, The Dark Knight, and The Avengers are all superior films in my mind), but it is exceptionally entertaining and accessible to anyone with a modicum of familiarity with the characters -- my comic-apathetic wife slept through Captain America but loved Stark's latest.
Action sequences are sufficiently spectacular, especially a striking skydiving setpiece, and the finale --featuring a phalanx of flying Iron Men -- is sure to fulfill fanboy fantasies (though the mediocre 3-D conversion makes much of the fast movement murkey). But I was far more taken with the less explosive elements, like the unconventional relationship that develops between Stark and a fatherless boy (Bridger Zadina), or the issues of identity raised by the Mandarin's secret background. The screenplay deals explicitly with Stark's schizophrenic relationship with the Iron Man suit, and by the end their association is forever altered. Though Stark asserts again "I am Iron Man," and the final credits claim "Tony Stark will return," I have a feeling it will be in a far different form than the one fans have become familiar with -- and hopefully the character will be more interesting for it.
P.S. Sit tight until the very end of the the credits for a hillarious cameo by a fellow Avenger that casts Downey's laconic voice-over narration in a whole different light.