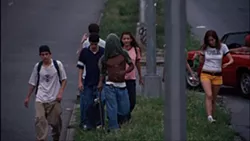 Between offending Sarah Palin fans, the start of principal photography on House of Cards Season 2 and the supposed Great Purge of titles that hit this week, Netflix had an interesting week. Sarah Palin is not worth talking about -- ever, and we know nothing about House of Cards yet. Streamaggedon, as it was called, is a different thing.
Personally, I lost 42 titles from Netflix queue, which doesn't sound like a lot, but going through some of my friends' Netflix queues, most of them barely keep 150 titles in their queue, so it's a pretty significant number. Imagine if someone stole 42 DVDs from your collection. You'd notice. I dropped from 462 titles queued to 420 titles over night, including one I had paused in the middle to watch later dammit (the Tchaikovsky biopic, The Music Lovers). The panic was caused by Instant Watcher, a site that logs all of the additions and subtractions from the Netflix library, and exacerbated by blogs who picked up on the panic and linked it to Warner Archive Instant looking to make a push into the mainstream.
Looking at this LA Times piece, Netflix lost about 1,000 titles this week from expiring licenses -- but they also gained about 500 titles from new licences.  To judge by Instant Watcher, they added quite a bit more than 500. Closer to 1,000, covering the first 18 pages of the site between titles added on May 2nd and 3rd. That's an awful lot of movies (though it's mostly B movie junk -- I think I added four new titles to my queue from those 18 pages).
The question of exclusivity if more studios decide to open up streaming sites of their own like Warner's could be a huge one though. If there is any certainty about anything on the web is that no one likes barriers to information. Paywalls slowly are becoming an acceptable barrier for most people, but if the streaming movies game becomes so splintered and spread out by too many exclusive deals that you have to subscribe to four or five sites to get a decent selection, it'll drive people right back to BitTorrent.  
News, links, etc:
-A pretty powerful read about the series of tragedies that affected the crew of skate kids that were at the center of Larry Clark and Harmony Korine's 1994 game changer, Kids. (Narrative.ly)
-Kent Jones on westerns and why Quenten Tarantino was dead fucking wrong about John Ford. But honestly I can't wait to read Tarantino's response. (Film Comment)
-There is a Billy Friedkin renaissance of late, something that goes back to his great 2012 film Killer Joe, and continues this month with the release of his memoir, which he's been making the rounds to promote. (Arts Beat)
-Even the NYPD of today is getting in on the action with this French Connection-style chase under the train tracks in Queens... for a stolen iPhone. (NY Times)
-Everything gets an oral history piece these days, so why not The Hangover? (THR)
-Disney has announced their upcoming short film slate for Disney.com. It's all new stuff. No word on more new Mickey Mouse shorts beyond Get a Horse, which debuts at Annecy in June. (Disney Interactive)
-Terrence Malick is working on an even longer cut of The Tree of Life (speculation is for the inevitable Criterion release), which is excellent news, and the IMAX release of the creation sequence from the film, aka Voyage of Time, could possibly hit theaters in 2014. (Playlist)
-The Academy changed the voting rules to allow screeners for the Best Foreign Language Film category (and Best Documentary Short Subject), but have not addressed the category's fatal flaw, that only one film per country be allowed. It'll always be a bullshit category until they fix that. (The Wrap)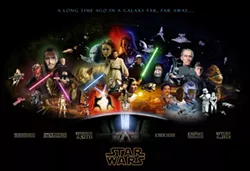 -Honestly, of everyone they needed to bring back for the new Star Wars films, John Williams was by far the most important and it looks like they got him. (Moviefone)
-LISTEN TO MARK HAMILL. "Mark Hamill just said he's had one creative meeting about Episode VII. He stressed the need for more props, less CGI." (@GermainLussier)
-What's that you say? You'd like to see 1,138 Star Wars behind the scenes photos? (JoinYouInTheSun)
-House of Cards season 2 began shooting this week. Even though the show fell to shit once Peter died (c'mon, you should've seen it already), it couldn't possibly be worse than Hemlock Grove. (@BeauWillimon)
-A slew of Studio Ghibli news and images right here, including Miyazaki's upcoming The Wind Rises and the live action adaptation of Kiki's Delivery Service. (The Film Stage)
Trailers, posters, etc:
-The new (first?) poster for Lars von Trier's Nymphomaniac is really funny. (CriterionCast)
-Kristin Wiig in Girl Most Likely. Can we put a lid on the crazy mother movies for a while after this? (Yahoo)
-Another pretty boring poster for The Bling Ring. Even Coppola's lesser films had great posters to ogle. (IndieWire)
-Jet Li's new action comedy, Badges of Fury. (Twitch)
-Another Fast Six trailer. Word is the film is almost 2 1/2 hours long. (Apple)