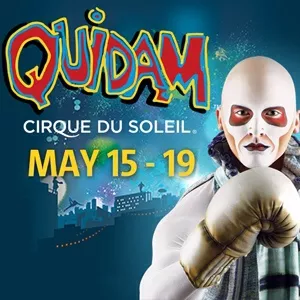 While Orlando is already the full-time home of Cirque du Soleil's La Nouba, next week you can see another one of the acclaimed troupe's classic productions without fly out to Las Vegas. The touring company of Quidam is settling into the UCF Arena for 8 performances only (May 15-19), and last month I got the change to meet two of its stars.
Mei Bouchard, who plays "Rabbit" in the show and performs acrobatic feats on the "Spanish Web," grew up in the Orlando area, and performed in our local theaters and theme parks before joining the circus. I sat down for the following interview with her, where she discussed life on the road and her early career here in Central Florida. Also included in the video are excepts of performer Wei-Laing Lin Demonstrating his dexterity with the Diabolo.
Tickets to the show are still available; see the press release below the video for full details:
[youtube LLOiC2mX2jA]
Cirque du Soleil is pleased to announce that the critically-acclaimed production Quidam will be performing in Orlando from May 15 -19 at UCF Arena for eight performances only.
Tickets for the general public will be available starting February 22 at www.cirquedusoleil.com/quidam or by calling 1-800-745-3000.
The show
Quidam had its world premiere in Montreal under the Big Top in April 1996. Since that time, the production has toured on five continents and been experienced by millions of people. In December 2010, Quidam embarked on a new journey, performing the same captivating production, but now in arenas throughout North America.The international cast features 52 world-class acrobats, musicians, singers and characters.
Young Zoé is bored; her parents, distant and apathetic, ignore her. Her life has lost all meaning. Seeking to fill the void of her existence, she slides into an imaginary world—the world of Quidam—where she meets characters who encourage her to free her soul.
SCHEDULE AND BOOKING INFORMATION
Show Schedule:
• Wednesday, May 15 at 7:30pm
• Thursday, May 16 at 7:30pm
• Friday, May 17 at 3:30pm and 7:30pm
• Saturday, May 18 at 3:30pm and 7:30pm
• Sunday, May 19 at 1pm and 5pm
Category 1, 2, 3
• Adults: From $35 to $75
• Children (12 & under): From $28 to $61
• Military, Seniors & Students: From $31.50 to $63
A limited number of Premium tickets are also available for all performances.
For show and ticket information, please visit www.cirquedusoleil.com/quidam