First:
Happy mother's day to all you mothers out there.
Here's a blog I wrote a few years ago about my favorite movie moms
.
Second: Hey, look, new title! This is, oddly enough, the two anniversary of the Roundup (May 15th, 2011 was the first one). Things have changed over the years, and this weekly post has even spawned a second weekly post, Short Film Friday. But one thing that had always stayed the same was the title. The original title was never a title, it was a descriptive placeholder that I somehow managed to keep for reasons of ineptitude for two years.
Third: Oh, Disney, Disney. What the hell is wrong with Disney of late? Not that they've ever been the warm, cuddly company that their candy coating advertises, but it's been pretty bad lately. Why do they keep shooting themselves in the foot with ideas that are so painfully, obviously bad choices? They're not even long shot choices that might pay off in the end. They're just blatantly poor decisions.
Why did they think the entire country of Mexico, not to mention millions of Mexican Americans (and Americans in general, really), would be cool with them trademarking the name Dia de los Muertos? If they had a movie called President's Day coming out, would they try and trademark that as well? Or would they just change the title to something innocuous that they could trademark without pissing off millions of people?

Why would you make Merida from Brave a Disney Princess and redesign her to be prettier and thinner with tamed hair when the fact that she wasn't a pretty, thin Disney Princess was a huge part of her charm? She was the rebel, the outsider and that was what kids who didn't see themselves in Sleeping Beauty or Belle latched on to. Merida has a new spark of imperfection, of reality, or at least she had one until Pixar let Disney get a hold of her and send her off to the plastic surgeon like the rest of them. What a great message to send to kids, Disney, young girls especially. Certainly there is no massive crisis with young girls and body image going on out there.
Of course Disney's role in Bangladesh is the most troubling and muddled issue of all (what their role ultimately was, if they even had one, and if their pullout will prove to be a disastrous over correction that'll only hurt the country further, making the factories that do stay even more unsafe instead of modernized), but its an issue a little out of the range of a film column, so I'll leave it alone.
Serious though, Disney. Get out of the brain cloud and your shit together. For better or worse you still wield immeasurable influence in this country and it's time to remember that proactively, not reactively when something bad happens in the world.
News, links, etc:
http://www.youtube.com/watch?v=GSV3laJplpU
-Disney's corporate decisions might be fucked in the head, but if they're going to keep doing stuff like Big Hero 6 on the creative side it's a score for everyone. I've never heard of Big Hero 6, but as far as obscure Marvel titles that have been optioned it kicks the hell out of Mort the Dead Teenager. (The Film Stage)
-So, does this memo outing CIA's active role in the development and shaping of Zero Dark Thirty actually change anything from a filmmaking perspective? At this point it just seems like something for politics junkies to masturbate over to be honest. The more information that actually comes out, through documentaries and books and news reports, the more things about ZDT get confirmed as being as close to genuine as a movie can be. Last week's HBO doc Manhunt was particularly revealing, interviewing real life counterparts that characters like Maya and Dan were based on, and telling the story of the agent who was killed in a suicide bombing in Khost that ZDT also goes into. (Gawker)
-We all know Beastie Boy Adam Yauch got a park in Brooklyn named after him this week, but what's been going on at the film company he co-founded, Oscilloscope Laboratories? (NY Times)
-Like I said, Danny Boyle. Don't worry, be happy. Andrea Arnold, Paddy Considine and Shane Meadows are all banging something new out. (Playlist)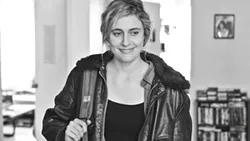 -Greta Gerwig is lovely, also the Village Voice cover girl this week. (Village Voice)
-Associated Press film critics Christie Lemire and David Germain resigned this week. That's a major bummer, especially concerning Lemire, who is usually spot on in her reviews. (@ChristyLemire)
-Orson Welles in the Playboy Interview, 1967. (Cinephilia and Beyond)
-CriticWire's Matt Singer shows his wife Melissa Star Wars for the first time and comes away with a new way of thinking. (CriticWire)
-Big shock: Kickstarter doesn't want us to scare off famous people. (Kickstarter)
-Jeez, Zhang Yi Mou, keep it in your pants. (Yahoo)
-I can't wait to see If These Knishes Could Talk: The Evolution of the New York Accent. I was shocked to find out as a kid that sausage didn't have a w in it and tomato ended with an o. (NY Times)
Trailers, posters, etc:
-Cannes began putting trailers for their competitions films on the website this week. (Festival de Cannes)
-Which was the bigger sci-fi trailer this week? Was it the big adaptation of Ender's Game, or was it Alfonso Cuaron's Gravity? Tough call, and I'm not really sold on either. My biggest impression from both is that the movies are about to ruin Arvo Part's Spiegel im Spiegel like they've ruined so many songs before by sticking it into 100 trailers.
-The Korean animated film The Customized Play. I need to see this film as soon as humanly possible. (Twitch)
-Andrew Bujalski's Computer Chess, which looks weird and nerdy and kind of wonderful. (CriterionCast)
-Give Us an Oscar... I mean August: Osage County. (Yahoo)
-No, Give ME an Oscar!... I mean, Captain Phillips with Tom Hanks. (Apple)