via disneyworld.disney.go.com
Today, the New York Post reported that "Rich Manhattan moms hire handicapped tour guides so kids can cut lines at Disney World."  According to the story, some well-off families have taken to "hiring disabled people to pose as family members so they and their kids can jump to the front" of the notoriously long-ass lines that make Walt Disney World a torturous slog during the parks' busiest seasons. Disney offers VIP tours of the parks that promise reduced wait times, and Fast Passes that you can use to buy your way to the front, but those things cost money – like, $310 to $380 per hour, the Post says (though USA Today got quotes on VIP Tours last year that range from $175-$195 per hour).
The cost to hire a disabled guide in a wheelchair to get you to the front of the line? The Post says it's just $130 an hour, or $1,040 for an eight-hour day using a company called Dream Tours, which promises to give disabled kids a chance to experience Disney – not help rich kids cut lines. However, when we visited the website earlier today, we did find a page that offered "VIP tours" that promised guides who could "provide significantly reduced wait times through the parks."
After the Post's story appeared, though, the company took down the link to that page, replacing it with a message that read: "Due to inaccurate press and slander, Dream Tours is not offering VIP tours at this time. Our focus has primarily always been providing magical vacations for adults with special needs and helping their dreams to come true."

via disneyworld.disney.go.com
Screenshot from company's website says services have been discontinued.
The Post has been known for its sensationalism, so it could be that they may have jumped the gun on this. The guide they mention actually turns out to be a woman with a disability who helps to run the company – the story acknowledges that she uses a scooter to help her get around the park. But not to bypass lines.
Dream Tours says on its website that it's a nonprofit 501(c)3 enterprise, but a search of nonprofit database Guidestar.org indicates that the organization's tax-exempt status was revoked:
Screenshot from company's website says services have been discontinued.
screenshot from guidestar.org
When you click for details, Guidestar provides the following popup: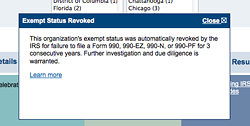 screenshot from guidestar.org
via Guidestar.org
A search on the IRS tax-exempt charities database, turns up similar information: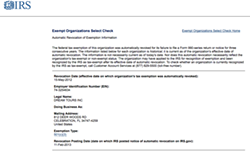 via irs.gov
And Dream Tours itself is not doing any talking. The company posted this message to its Facebook page today:
via facebook.com
While it seems like a pretty unethical thing to do ... let's play devil's advocate for a minute: What's the big deal if the company did hire willing disabled people to take people on tours of Walt Disney World? Yeah, it's kind of crappy for people to pretend that they're related to a disabled tour guide so they can get to the front of the line, but isn't it on Disney (not Dream Tours) to determine whether a guide should be allowed to use their disabled status to allow people to cut lines with them? Unless Dream Tours is guilty of doing something more than just being opportunistic and playing fast and loose with the Disney line-cutting rules, it seems like people should be more concerned about their failure to file the proper paperwork to maintain their tax-exempt status than their questionable business practice.
UPDATE: Today, Dream Tours Inc. has posted to its Facebook page to say that the Post's story is false and that it plans to seek a lawyer for defamation. Screenshot below: