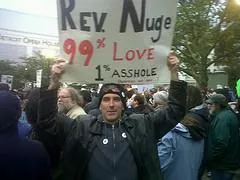 Tommy Nugent
wants to tell you a story. He wants you to know how he evolved from a jaded, politically disengaged Fringe-circuit monologist into a zealous champion of the 99 percent – all because the Occupy movement came to his hometown of Detroit. He wants to tell you what he saw there, who he met, and how it ironically boosted his career, even as he was learning to genuinely care for others.
Nugent wants you to hear this story, and you want to listen to it, because he's an eminently likeable guy with a disarming onstage manner. If only he could figure out how to tell it. For a full hour, he races from one anecdote to the next, at the velocity of Alyson Hannigan in American Pie. ("This one time, at band encampment
") Rarely does he pause to emphasize one incident or observation over another; as a result, they all seem disconnected and anticlimactic. His character arc could use some work, too: The idea that he underwent some sort of epiphany is undercut when he comes right out of the gate spouting policy platforms with a sophistication that's ready for C-SPAN. Throughout his adventure, his orientation seems to have been that of a neo-hippie. (The road from Burning Man to an Occupy protest will not strike the average audience member as particularly long or winding.)
Now, am I suggesting that Nugent should lie to make his story more satisfying? Yes, that is exactly what I'm suggesting. Crafting personal experience into narrative is a process of prioritizing, editing, exaggerating and even fabricating when necessary. Nugent would need to do all four to make OCCUPY This! work as a piece of theater. As it now stands, it's 60 minutes' worth of good intentions that simply exhaust us after 20.
Note: This review is based on a preview performance that the press was invited to attend.
OCCUPY This! Tales of an Accidental Activist
Tommy "Rev. Nuge" Nugent (Deerborn Heights, MI)
Rating: G-14 (adult language)
Run Time: 60 minutes
Red Venue
$11
Genre: Storytelling, comedy, drama, solo
Websites – www.revnuge.com
Thu, May 16 2013, 10:15 p.m.
Fri, May 17, 2013, 11 p.m.
Sat, May 18 2013, 9:15 p.m.
Wed, May 22 2013, 9:15 p.m.
Thu, May 23 2013, 11 p.m.
Fri, May 24 2013, 10:30 p.m.
Sat, May 25, 7:30 p.m.