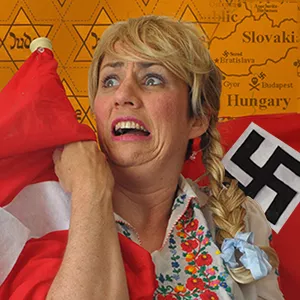 When a show is titled 
Hitler's Li'l Abomination
, you feel kind of weird telling people 
"I loved it! It reminded me of all my relatives!"
But if you grew up among Germans – especially ones who were only a few years removed from The Old Country – you'll be beside yourself with nostalgic laughter as monologist
Annette Roman
impersonates and then deconstructs that side of her family. (A particular bullseye: The Germans, she points out, are the only people on Earth who can talk and inhale simultaneously.)
To be fair, Roman has more raw material to work with than us garden-variety Amerikrauts. Her mother wasn't just German, but an alumnus of the Hitler Youth for Girls. Meanwhile, her father was a Hungarian Jew who narrowly survived the death camps. And he went on to be the disciplinarian in the family. Listen, if NBC could come up with anything this good, they'd be beating QVC on Thursday nights.
Abomination would be worth your time even if Roman stopped at making fun of her unique background. She doesn't. On a more serious note, she demonstrates how that background has influenced her adult relationships – including her relationship with 21st-century American society itself, which is quick to use Nazism as a cheap, lazy metaphor yet barely comprehends its true implications.
Against all odds, Roman offers a fairly fresh perspective on the age-old question "Can we ever really learn from history?" If you're in the market for such a perspective, listen closely for the ghosts of generations' worth of Tantes and Omas: They're floating just outside the Pink Venue, beckoning "In here, Liebchen! In here!"
Note: This review is based on a preview performance that the press was invited to attend.
Hitler's Li'l Abomination
(Link: http://orlandofringe.ticketleap.com/hitlers-lil-abomination/details
Annette Roman (Berkeley, CA)
Rating: G
Run Time: 55 minutes
Pink Venue
$10
Genre: Solo Show, Storytelling, Political, Drama, Comedy, Educational
Websites – annette.roman.wordpress.com
Video – http://youtu.be/A2BRr5tYxnU
Show Times:
Fri, May 17, 2013, 7:30 p.m.
Sun, May 19 2013, 1 p.m.
Mon, May 20 2013, 5:15 p.m.
Wed, May 22 2013, 8 p.m.
Thu, May 23 2013, 8:45 p.m.
Fri, May 24 2013, 5:15 p.m.
Sat, May 25, 11:15 a.m.