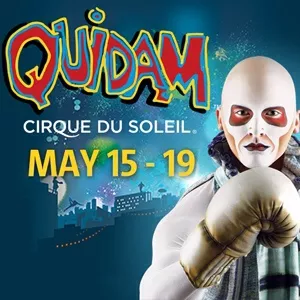 A bored little girl is spirited away from her inattentive parents by a magical blue bowler hat, and finds herself amidst a menagerie of free-spirited creatures. That's the closest I can come to summarizing the storyline behind Cirque du Soleil's Quidam, but that's ok: the eye candy is just as sweet, even if the Magritte-esque surrealism doesn't make literal sense. Of course, no one attends Cirque's animal-free circus spectaculars for their plots. What matters is that this classic production -- which began under a Canadian tent in 1996, and was recently restaged to tour arenas like the one at UCF -- is as athletically and aesthetically impressive as its sit-down sibling La Nouba, something that couldn't be said about the disappointing Dralion tour that limped through town a couple years ago.
It's hard to highlight any particular performer among the always-amazing specialty acts on any Cirque stage, but Orlando ex-pat Mei Bouchard certainly stood out both playing the flirtatious Rabbit character and climbing the "Spanish web" swinging ropes, while Wei-Laing Lin's Diabolo juggling was a crowd favorite (see my recent video preview with both on the Orlando Weekly blog). Other exceptional stunts include a stunning slow-motion weight-sharing routine, a dizzying German wheel, and a high-flying acrobatic finale. A Lady Godiva-esque aerial silk artist and Flashdance-flavored hand-balancer bring out a surprisingly sensual side of Cirque, which is usually strictly G-rated (excepting their naughty Zumanity show in Vegas). The only off note was a late-show audience participation clowning scene, which started funny but went on so long I thought they might be stalling to cover some backstage mishap.
Ultimately, what sets Cirque du Soleil above its ever-growing hordes of similarly-named imitators is not their headliners, but the secondary and tertiary elements that add depth and texture to every moment. There may not be the traditional three rings, but there is always another layer to look at, like some strange creature scampering upstage or wild dervish whirling in the wings. Add in hypnotic live music (operatic world beat with elements from Eastern Europe and the Middle East), a clever curved lighting/flying truss that gives the arena a big-top feel, and feverishly imaginative costumes and choreography, and you end up with sublimly transcendent moments: a man floating through the air shreds the newspaper that frames his face like a lion's mane; dozens of jump-ropes swing in a synchronized Double Dutch ballet that unfolds like a flower.
It may not have the technological wizardry of Cirque's newer stationary shows, but this tour of Quidam was compelling enough to keep me awake and on the edge of one of the UCF's Arena's excruciatingly anti-ergonomic seats for its full 135 minute running time, after I had already seen 4 other shows earlier the same day. Now that's really saying something.