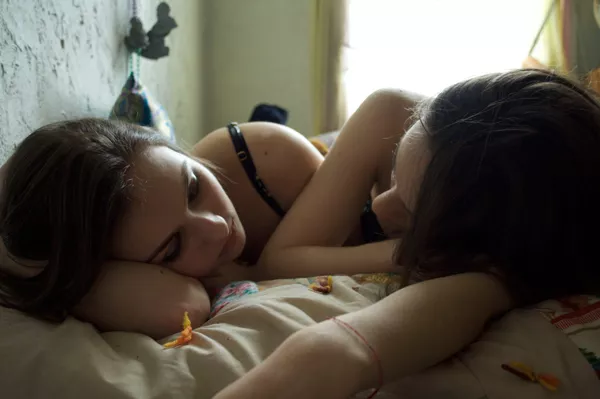 Forever's Gonna Start Tonight (Kinda NSFW)
Dir: Eliza Hittman
Runtime: 15m (mostly English, but a little subtitled Russian)
@ElizaHittman (Source: Sundance)
A slice of life from about a teenager whose night out at the club with her girlfriend might cost her a little more than she bargained for, filmed around the neighborhoods in Brooklyn I grew up in. 
This quote completely won me over
though because it's exactly how I feel -- Brooklyn is barely Williamsburg, Greenpoint or Park Slope, it's mostly working class families:
"Having grown up in South Brooklyn, I feel there is an unbalanced interest in the developing arts and legions of young creative transplants in North Brooklyn. There are many micro budget narratives about people moving to the city and carving out a life. My goal is to highlight the experiences of native Brooklynites without reaching to the other polar extreme and showing a ghettoized image of the city. I am really passionate about shooting films in working class neighborhoods in Brooklyn like Gravesend and Gerritsen Beach, areas that are rarely pictured in the popular imagination of the city." 
Hittman's  first feature,
It Felt Like Love
, played Sundance and the Sarasota Film Festival and should be out later this year.
http://www.youtube.com/watch?v=wdNx5VRXGeE
****
Intersection
Dir: Benjamin Garst
Runtime: 6m
Pixelsmyth Workshop
A couple of friends-of-friends made this short about a sign twirler who falls for a girl who passes by him everyday for Film Racing's 100 Hour Film Festival last December. After a computer crash during rendering they almost missed the deadline, but eventually managed a respectable 4th place finish with it. http://www.youtube.com/watch?v=hjsFJJxSha0
****
Naked Eyes (NSFW)
Dir: Leos Carax
Runtime: 45 seconds
(Source: Biblioklept)
Leos Carax is one strange dude, but he's a hell of a talented strange dude. Naked Eyes is not even close to the strangest thing he's done (is anything stranger -- can anything 
be
stranger -- than Mr. Merde?), but it's up there. It's about a man who finally manages a night in bed with his blind neighbor... only to find out she isn't exactly blind. http://www.youtube.com/watch?v=f1LvJeoKoc4