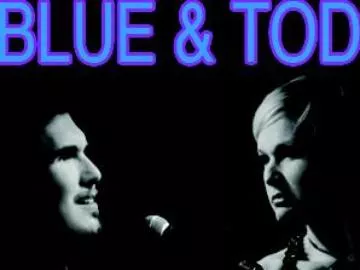 I stumbled across a nude portrait of Bea Arthur embedded within a Yahoo News article Thursday evening. As my eyes gazed upon the matronly bosoms of Dorothy Zbornak, I truly felt that I was prepared for the anything-goes atmosphere of the Fringe Festival. However, I still wasn't prepared for Blue's voice, though I was well aware that she's a local performance arts darling. I vaguely recall catching one or two of her VarieTEASE shows way back when Revolution was still Southern Nights, but those shows consisted solely of lip-syncing. So I had no idea how beautiful her voice was.
Tod Kimbro's voice was also nothing short of impressive. The duo covered several recognizable songs by artists ranging from Louis Armstrong to Wiz Khalifa. Almost all of the songs performed were related to the color black (hence the show's title), though there was one medley that paid tribute to all the colours of the rainbow. It is Fringe, after all. Another nod to the color black came at the very beginning of the show: Apparently, the lighting tech missed a cue, resulting in a quip reminding him not to take the show's title too literally. Scripted or flubbed, it worked.
Their cohort, Tanisha, made a valiant effort to steal the spotlight, but Blue clearly wasn't going to be upstaged in her own theater. She came back with several more numbers that reminded the audience whose house they were in. I left the theater with the sense that Orlando is better as a whole for having her. Blue's talents help Orlando's arts compete on both the national and international stage.
Cocktail service was available during the show, a service not permitted during any other show in the festival. Such a luxury truly enhanced the cabaret experience.
Blue & Tod: In the Black
Baby BLUESTAR Productions and Tod Kimbro present  – Orlando, FL
Rating: M
Warnings: Adult language, adult themes, and possibly boobies in pasties
Run Time: 60 minutes
Black Venue
$11
Genre: Music, comedy, dance
Show Times:
Wednesday, May 15, 2013, 11:00 PM to Thursday, May 16, 2013, 12:00 AM
Friday, May 17, 2013, 11:00 PM to Saturday, May 18, 2013, 12:00 AM
Saturday, May 18, 2013, 8:15 PM - 9:15 PM
Wednesday, May 22, 2013, 10:30 PM - 11:30 PM
Friday, May 24, 2013, 11:00 PM to Saturday, May 25, 2013, 12:00 AM
Saturday, May 25, 2013, 9:30 PM - 10:30 PM
Sunday, May 26, 2013, 4:20 PM - 5:20 PM
Read all our Fringe coverage HERE!