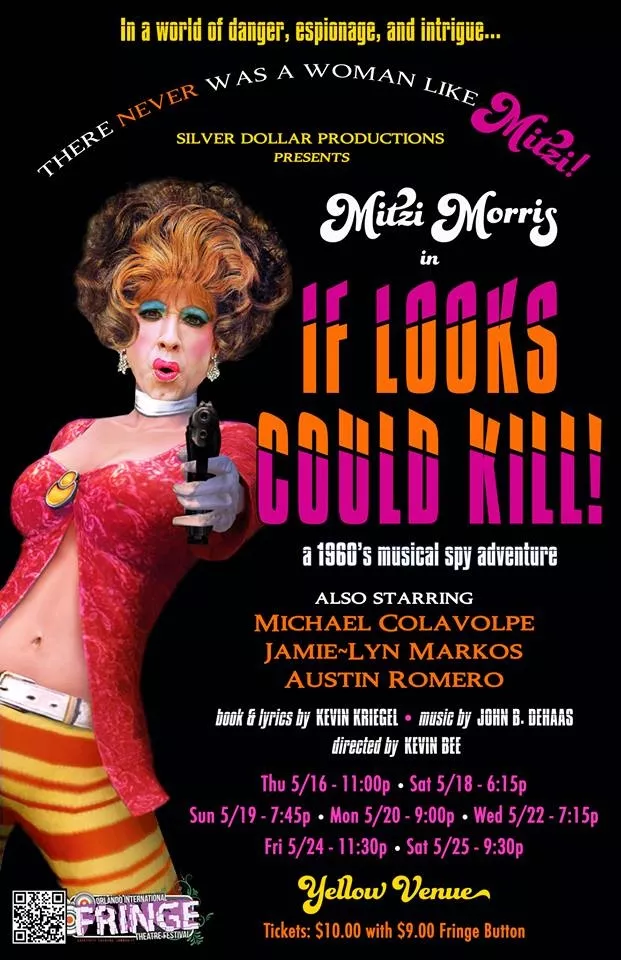 Mitzi Morris (a.k.a. playwright Kevin Kriegel) has everything a swinging 60s super-spy needs: a M-like English authority figure (Michael Colavolpe), a bedazzled PPK and a handbag full of lethal gadgets, and a John Barry-esque theme song (composed by John deHaas). Likewise, her second Orlando Fringe outing If Looks Could Kill! has everything an effervescent espionage spoof should have: a voluptuous villainess (Jamie-Lynn Markos) with a gynecological appellation and a platoon of disposable henchmen (Austin Romero), slapstick kung-fu smack-downs, and wink-wink-nudge-nudge innuendo in every other line.
Director Kevin Bee has the talented cast of this likable lightweight lark ticking like a time bomb, turning out the tightest comic timing I seen so far at Fringe. Mitzi's Monte Carlo caper, which involves an elaborate diamond-for-blueprints exchange, comes to a completely arbitrary conclusion, but as Agent 69 herself might say, at least it comes. If drag and double entendre are your bag, you could do a lot worse than a date with this dazzling dame.
Mitzi Morris in "If Looks Could Kill!"
Silver Dollar Productions (Orlando, FL)
Rating: G-14 (comic violence, adult language, innuendo)
Run Time: 60 minutes
Yellow Venue
$10
Genre: Musical, Comedy
Websites: www.mitzimorris.com
www.facebook.com/mitzimorrisfanpage
http://orlandofringe.ticketleap.com/mitzi-morris-in-if-looks-could-kill/
Show Times:
Sun, May 19 2013, 7:45p.m. - 8:45p.m.
Mon, May 20 2013, 9:00p.m. - 10:00p.m.
Wed, May 22 2013, 7:15p.m. - 8:15p.m.
Fri, May 24 2013, 11:30p.m. - Sat, May 25 2013, 12:30a.m.
Sat, May 25 2013, 9:30p.m. - 10:30p.m.