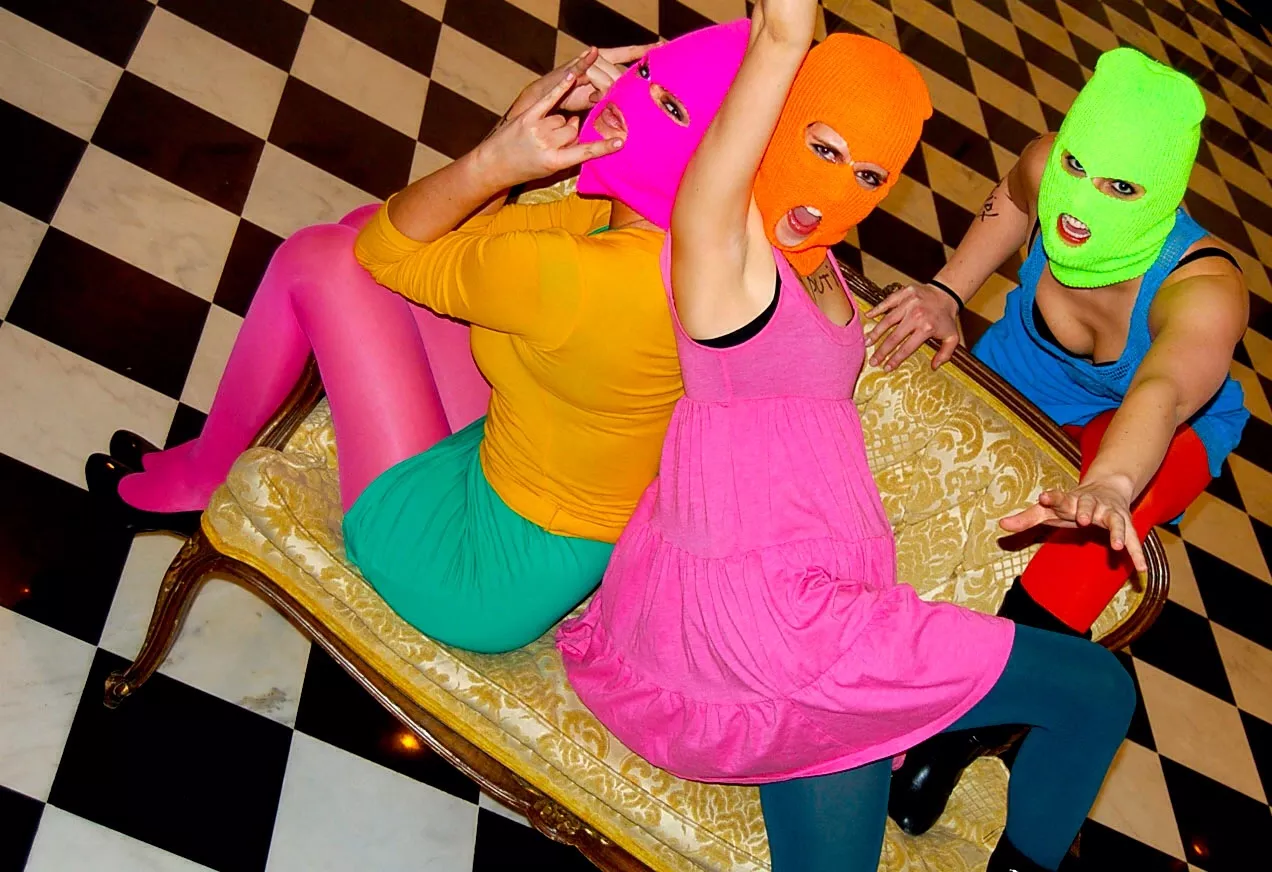 I've been eagerly anticipating The Three Pussy Riot Sisters as the homecoming of Fringe-favorite writer/director David Lee (Jaws The Musical, Pie-Face), and expected another sly serio-comic sendup along the lines of Aunt Vanya and Nirvanov, the first two installments of his "Chekhov Mash-Up Trilogy." What I found instead was something much more profound; rather than a campy fictional drama, this show is an impassioned and powerful multimedia polemic painstakingly pulled verbatim from primary sources.
Nadya (Sarah Mathews), Masha (Courtney Moors), and Katya (Sarah Hankin) made international headlines when they were arrested in 2012 for performing their song "Punk Prayer: Mother of God Dive Putin Away" inside a Russian Orthodox cathedral to protest the collusion between Putin's repressively regime and the corrupt state church, currently led by an ex-KGB crony. The case, which landed the members in a Soviet-style gulag in the same town Chekhov's literary Three Sisters longed to escape from, became a cause célèbre in the western media, but I was unaware of the depth of the girls' political convictions until hearing their erudite closing courtroom statements quoted at length. Chekhov's novel becomes a framing device that ties the legal transcripts and jailhouse interviews together, creating parallels between the sisters' naive dream of a more civilized Russia and Pussy Riot's equally hopeless idealism, as the the actresses recite relevant passages from the book in alternating unison like a Cyrillic spin on Macbeth's witches.
Pussy Riot's brand of feminist agitprop provocatively challenges not only Putin's oppression, but the entire patriarchal corporate state structure that western civilization is built on, and their litany of failures of Russia's school system and social services sounds frightening familiar to this American. Like the jailed rockers, these three attractive, articulate actresses "destroy the stereotype that a feminist is an ugly frustrated harridan," and Lee (with assistance from Casey Blanton's cleverly cut video) has done a masterful job researching and editing the ripped-from-reality text. The Three Pussy Riot Sisters is easily the most intellectually agitating and anger-inducing show I've seen at Fringe in ages, and I mean that as a high compliment.
The Three Pussy Riot Sisters
Kangagirl and Ant Farm Productions (New York, NY)
Rating: G14 (Adult themes)
Run Time: 70 minutes
Silver Venue
$11
Genre: Solo, Comedy, Drama, and Multimedia
Websites: https://www.facebook.com/events/297153220414372/?context=create
http://orlandofringe.ticketleap.com/the-three-pussy-riot-sisters/

Video: Info and interviews: http://www.youtube.com/watch?v=6UzE_8yEzyU&feature=endscreen&NR=1
Free Pussy Riot!: http://www.youtube.com/watch?v=JLRn_yZkU9s&feature=youtube_gdata_player
Show Times:
Sun, May 19 2013, 6:15p.m. - 7:45p.m.
Wed, May 22 2013, 11:00p.m. - Thu, May 23 2013, 12:30a.m.
Sat, May 25 2013, 10:15p.m. - 11:45p.m.
Sun, May 26 2013, 4:20p.m. - 5:50p.m.
Read all our Fringe coverage HERE!