Far, far away in a little city on the water, a little film festival began this week. As is the custom every year, I follow every critic and writer I can find who is at Cannes on Twitter and read them bitterly while wishing I was there. Rain be damned. Cat burglars be damned. Gun violence be damned. Even the lines that are so long that you're not actually guaranteed to see any films while you're there be damned. Twitter is nice too though, right?
The main competition this year isn't the strongest in recent memory (based on synopses and buzz anyway), but still features new films from the Coen Brothers, Alexander Payne, and Hirokazu Koreeda. Un Certain Regard might actually be stronger, with new films from Sofia Coppola,  Claire Denis, Lav Diaz, and even James Franco. After last year's big deal about the lack of female directors, Un Certain Regard is where a lot of them landed this go around, and Sofia's Coppola's The Bling Ring has been the early lightning rod on Twitter, especially when real jewel thieves hit Cannes the day it premiered (twice even).
On the homefront, Netflix decided secrecy was a better option than transparency regarding film expiry dates. Secrecy is always a good idea in the internet age. It doesn't piss people off or hinder how they use the products on offer at all. (No more "expiring soon" In Your Queues pieces from us I guess.) I'm sick to death of talking about Netflix though. I've settled on the idea that they are a good company who will constantly make boneheaded customer and public relations nightmares for themselves (and us).
I don't have much to say about the Angelina Jolie story except good on her.
News, links, etc:
-Fox officially announced Neil deGrasse Tyson's reboot of Cosmos at their upfront presentation this week. (The Verge)
-Disney pulled their more flattering Merida design idea after everyone in their world simultaneously slapped their foreheads. (Yahoo)
-An in depth interview with Alex Gibney about WikiLeaks, Julian Assange and Bradley Manning. (Salon)
-I'm a little skeptical about a sequel to Crouching Tiger, Hidden Dragon, but Michelle Yeoh and Donnie Yen (and director Yuen Wo Ping) calm that pang down quite a bit. (THR)
-"Paris Hilton Cried Watching The Bling Ring" is as good an endorsement as anything else, right? (Vulture)
-Justin Marks on the life of a screenwriter you've never heard of. (THR)
-The Catcher in the Rye, directed by.... Mike Nichols? or Elia Kazan? They're at the top of Salinger's list, a list apparently made some time in the late 1960s. (@LoganHill33)
-Huzzah! Season two of Jerry Jerry Dingleberry's Comedians in Cars Getting Coffee is almost ready. (@JerrySeinfeld)
-Highlights from the Inside Llewyn Davis press conference at Cannes. (Playlist)
-RIP Alexey Balabanov, director of Brother. (Twitch)
-A flight attendant weighs in on Pedro Almodovar's airborne comedy, I'm So Excited. (The Guardian)
-There is a new Toy Story short coming to ABC this Halloween. (First Showing)
-I'm 100% down for a third National Treasure movie, even if the second one didn't live up to the great first one. I WANT TO KNOW WHAT WAS ON PAGE 47 DAMMIT. (HitFlix)
-Since Frank or Francis fell apart, Charlie Kaufman is going ahead with co-directing a stop motion animation called Anomalisa with voice talent like Jennifer Jason Leigh, David Thewlis and Tom Noonan. (Playlist)
Trailers, posters, etc:
-Europa Report, a space thriller about the first expedition to Jupiter's moon Europa (probably the best hope of finding life, or at least liquid water, in our solar system). Could be great, but could also end up thoroughly mediocre if they fall too deep into that thriller genre pitfall. (i09)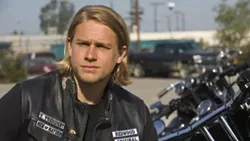 BRO! COME ON!
-Another trailer for Del Toro's Pacific Rim. If Jax doesn't go around angrily screaming BRO! at the Kaiju, I'll be somewhat disappointed. At least Ron Perlman isn't in drag in this one. (Yahoo)
-Jean Pierre Jeunet goes Americana in The Young and Prodigious Spivet, about a 12 year old cartographer who runs away from his family. Looks sort of darling, which could very easily be too much. Jeunet hasn't found the full measure of his talent since Amelie. (Twitch)
-The first trailer for Ghost in the Shell: Arise, a 4-part prequel to the 1995 original, which I just watched again last week and it still holds up almost 20 years later. Who knows when it'll get subtitled and exported though (at least officially). (Cartoon Brew)
-The paining of Katniss on the new Catching Fire kinda sort looks like Jennifer Lawrence I guess. The world of action movies really misses Drew Struzan. (The Film Stage)
-Alejandro Jodorowsky's new film, The Dance of Reality. (CriterionCast)
Cannes trailers:
http://www.youtube.com/watch?v=aOxCNQFnD2E
-Hirokazu Koreeda's Like Father, Like Son. (Nippon Cinema)
-Ari Folman's The Congress. (Filmmaker Magazine)
-Jia Zhangke's A Touch of Sin. (IndieWire)
-Ryan Coogler's Fruitvale Station. (IndieWire)
-Jeremy Saulnier's Blur Ruin. (Twitch)