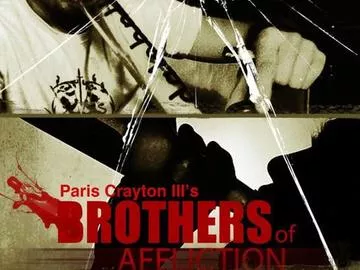 Brothers of Affliction
is a gritty relationship drama depicting the trials and tribulations of three troubled and trouble-making Afro-American siblings. Chris, the eldest, drinks to excess; Shane, the middle son, who has spent seven years in prison, is a coke-head; and Tyree, the youngest, gets high on weed when he's not getting into fights in bars. And all three have problems with the women in their lives.
Written by Paris Crayton III, who plays Tyree, the play features strong, in-your-face language, many tense and violent moments, and most importantly, a bevy of powerfully honest emotional confrontations. Secrets get spilled as the three brothers fight and make-up, each one trying to outdo the other two with tales of their own unhappy and painful childhoods.
Kirk D. Henry as Chris and Robb Douglas as Shane complete the fine cast in this extremely satisfying and potent production. —Al Krulick
3 Hill Productions (Atlanta, GA)
Rating: G14
Warnings: Violence, Adult language, simulated drug use
Run Time: 75 minutes
Genre: Drama, Comedy
Remaining dates:
Monday, May 20, 2013, 10:15 PM
Wednesday, May 22, 2013, 11:15 PM
Thursday, May 23, 2013, 12:30 AM
Thursday, May 23, 2013, 9:30 PM
Keep up with our ongoing Fringe coverage here!