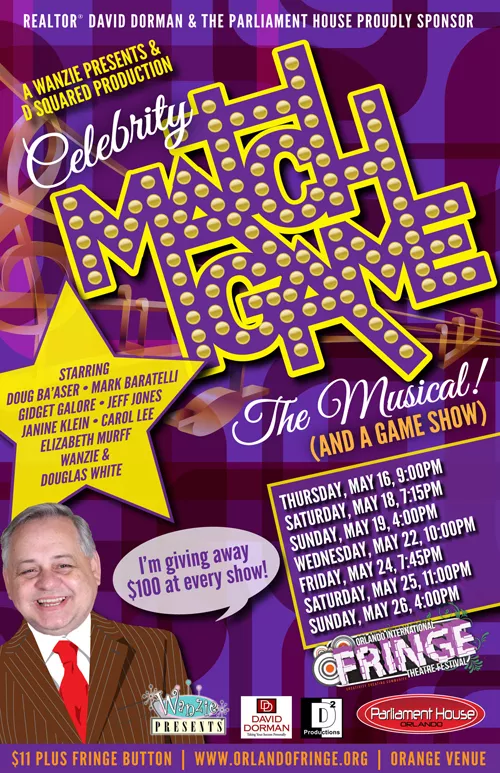 Would you like to see a Broadway musical integrated into a TV game show, seamlessly and organically? Then girlfriend, keep your ass away from
Michael Wanzie
. The point of an outing like his 
Celebrity Match Game
is to perpetually and defiantly court utter collapse with a performance that gratuitously mashes up two already-gratuitous festival tropes. A true postmodernist hero, he snatches chaos from the jaws of order.
Like Gene Rayburn before him, Wanzie pulls a pair of contestants out of his audience so they can match wits with some sassy local celebutantes: Doug Ba'aser, Carol Lee, Elizabeth Murff, Gidget Galore, Janine Klein, Jeff Jones and the Fringe's beloved "Judy Garland" (whose arrival on stage has all the confused triumph of the Allies mistakenly liberating Boise, Idaho, during World War II). The game itself advances at the pleasant pace of a snail on Maker's Mark, since the performers – including Wanzie's helpmate, Douglas White -- keep getting recruited to deliver musical numbers instead. They're taking their marching orders from the disembodied voice of Fringe producer Mike Marinaccio, whose bossy prerecorded instructions frequently step on the live performers' lines, and sometimes even repeat themselves nonsensically. Honestly, it's just like having the real thing there. (I KEED! I KEED!)
While we wait for the panelists to get back to deciding exactly what Dumb Dora did, and with whom, we get to hear some pretty solid show tunes. Klein in particular can really belt one down – I mean "out." I guess the only thing that really disappointed me about Saturday's performance is that the two contestants spoke perfectly fine English. The installment I saw of last year's *Celebrity Squares was won by a cheerful Latina who understood not one word of what was going on, and had to compete through an interpreter. This time, both players were totally literate and lucid. Goddamn yokels; don't they know what kind of a show they're in, anyway?
CELEBRITY MATCH GAME: The Musical (And a Game Show)
(Link:
Wanzie Presents (Orlando, FL)
Rating: M (Adult language, strong sexual content)
Run Time: 75 minutes
Orange Venue
$11
Genre:  Musical Comedy, Drama, Game Show
Websites – www.WANZIE.com
Show Times:
Wed, May 22 2013, 10 p.m.
Fri, May 24 2013, 7:45 p.m.
Sat, May 25, 11 p.m.
Sun, May 26, 4 p.m.
Tags: Fringe, fringe 2013, Steve Schneider, theater, theater review, theatre review