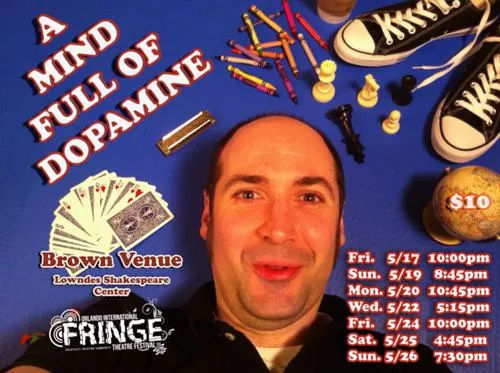 I've spent my share of time at casino tables in Vegas and the Carribean, but I've never maxed out 8 credit cards or lost my rent money on a hand of poker, like Rory Ledbetter. As I learned in A Mind Full of Dopamine, his brisk, funny exploration of gambling addiction, the difference between us may be that my brain lacks the overactive neurotransmitters that promote a pro-risk-taking mentality.
The show weaves factoids on the the science of compulsive behavior with lowlights from Ledbetter's career as a card-player, starting with his first game of penny-ante 7 card stud at age 13. Flash forward fifteen years and he's blowing his last $500 playing no-limit at Hustler casinos with decor resembling "what the TARDIS would look like inside if Doctor Who was a pimp." While not quite as polished as some pros on the Fringe circuit, Leddbetter has an affable and engaging presence, an inspiring openness about his struggles staying sober, and passable chops on the blues harmonica (with which he punctuates his transitions).
Lingo-laden details of life-changing hands are as important to this story as the moves in a chess match, so it helps to have watched a World Series of Poker tournament or two. But you don't need to know a straight flush from a full house to catch the fever when Ledbetter's winning, or feel his pain when he busts out. As as added bonus, attentive audience members can win a deck of playing cards as a prize, which seems sorta like a show about AA handing out airline booze bottles... but what the hey -- deal me in.
A Mind Full of Dopamine
Rory Ledbetter (Oxford, MS)
Rating: G14 (Adult language)
Run Time: 50 minutes
Brown Venue
$10
Genre: Comedy, Storytelling, Solo-Show, Tragicomedy
Websites: roryledbetter.com
http://orlandofringe.ticketleap.com/a-mind-full-of-dopamine/

Show Times:
Mon, May 20 2013, 10:45p.m. - 11:45p.m.
Wed, May 22 2013, 5:15p.m. - 6:15p.m.
Fri, May 24 2013, 10:00p.m. - 11:00p.m.
Sat, May 25 2013, 4:45p.m. - 5:45p.m.
Sun, May 26 2013, 7:30p.m. - 8:30p.m.
Read all our Fringe Festival coverage HERE!