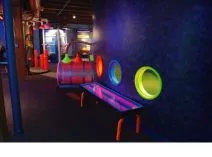 Blue Man Group - Making Waves exhibit
Blue Man Group - Making Waves exhibit
In conjunction with Orlando Science Center's current Blue Man Group - Making Waves exhibit, the painted guys from the highly acclaimed live show at Universal Orlando will make an appearance at the Center from noon to 2 p.m. on Sunday, June 2.
They are known for their neon-hued, high-action performances, where they play odd instruments such as tube phones, slide-u-lums, sand drums and PVCs. During their stop at OSC, guests will get the chance to play alongside the Blue Men while touring the interactive exhibit's instruments and sensory technology. No word on whether they'll be slinging paint (so no need for the poncho).
The in-person Blue Man Group experience is included with the price of admission to the Center ($13 for kids ages 3-11, $19 for adults). The traveling Blue Man Group - Making Waves exhibit extends through the end of summer. For more info, visit OSC's website.