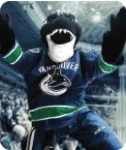 Fin of the Vancouver Canucks
Fin of the Vancouver Canucks
For nearly two decades, Central Floridians have annually anticipated the arrival of their favorite furry and felted friends. The Celebrity Mascot Games, a summer fixture in Orlando, has graced us with its once yearly showing of athleticism and sportsmanship between those we usually expect to see on the sidelines.
From local beloveds like the Tampa Bay Bucs' Captain Fear and the Solar Bears' Shades, to colorful visitors like Mike the Tiger of LSU and Fin, who appears to be a predatory marine mammal, of the Vancouver Canucks, gaggles of mascots come out every year for not only some lighthearted competition, but also in support of New Hope for Kids.
The foundation, which seeks to "support children and families grieving the death of a loved one and to grant wishes to children with life-threatening illnesses in Central Florida," has been the event's beneficiary since its inception in 1996.
Unfortunately, for the first time in almost twenty years, the 2013 summer season will be barren of any and all mascot sporting. The Central Florida Sports Commission (CFSC) has decided to suspend the event temporarily as it fails to align with CFSC's "core mission."
In a press release, New Hope for Kids Executive Director Dave Joswick expressed New Hope's disappointment in the event's momentary hiatus, but expects a Mascot Games for 2014. "This unique and family-friendly event is an important part of our community and we want to see it continue for years to come," said Joswick.
With any luck, next summer will bring the promise of caricatured beast-men rolling around on AstroTurf and Central Florida kids reaping the goodwill that comes with over 300,000 cumulative dollars earned since the Mascot Games began. – Lauren Killer