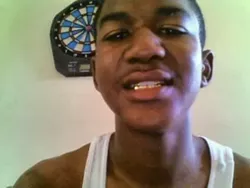 As loathe as we are to jump into the hornet's nest of stereotypes and slurs effectively being summoned from the public by the twisted hive minds of George Zimmerman's auspicious defense team (we're not buying it, Mark O'Mara), we can't exactly stay silent either. From what we can gather, we're supposed to now believe that rather than being an innocent 17-year-old without a criminal record (which he was), Trayvon Martin was a product of a violent thug culture, a ticking time bomb just waiting to blow up in the face of a nosy neighborhood-watch volunteer with nothing better to do than trail a black kid around a gated community. Why are we supposed to believe this? Well, O'Mara et. al. yesterday released all of the contents of Martin's big-talking cellphone that seemed fit for crafting a narrative. From the photos and texts released, we learn that, no, Martin probably didn't look like an angel in a hoodie at the time of the 2012 incident, because, duh, he was 17 and all 17-year-olds look weird. Moreover, we see the photos of a gun, a pot plant, a kid with gold teeth, and a kid at one point blowing thick smoke through those gold teeth. In the text transcripts, we learn that Martin might have been a troubled kid from a broken home, one who liked to muse on guns, weed, sex, fighting and other things a lot of us might have texted about on our cell phones at one point in our lives or another. But, as most sane people have pointed out, none of this circumstantial character drafting could actually make a boy without a gun more dangerous than a man with a gun, especially when that gun was used to kill the boy. Also, most of the evidence probably won't be admissible in court, so what exactly is the fire that O'Mara and Zimmerman mean to stoke, here? Is this a trial about all black kids and black culture being a threat BEFORE they are actually involved in crimes, therefore rendering self-defense more likely, but only in the court of public opinion where the evidence will be allowed? Because that makes perfect sense.
Here's another scenario for you. Take a look at this picture:
So, are we supposed to be scared that Martin could potentially trample somebody from atop this frightful equine monster? You never do know. Anyway, as the trial gets underway next month, expect more media manipulation from the Zimmerman camp, because that mob mixology sounds like a great way to ensure public safety and well being. Oh, and remember: Trayvon Martin didn't do anything wrong and Trayvon Martin is dead. Perhaps that's the narrative we should be paying attention to?