Petey Mongelli with 'The Ghouligans'
Horror cons...They're not just for the creeps.
There are a few things you should know about the Orlando horror community: One, it's not as much of a niche market as you might expect. Two, it's filled to the brim with arguably the largest collection of artists in the history of our city. I know right? That's a pretty big statement to make given our explosively-passionate and eclectic arts community, but hear me out.
These guys had a blast scaring the piss out of tourists. Hilarious!
Petey Mongelli with 'The Ghouligans'
Rabid entrepreneur Petey Mongelli has busted his ass ensuring that the spirit of everything "horror" is alive and well in Orlando, Florida. He's the madman in charge of Spooky Empire (the largest annual horror convention in the United States) as well as the midyear May-Hem convention. This runs adjacent to Halloween Extreme, the largest professional haunted-house convention on the East Coast. How does he do it year-after-year? I'd say the credit goes largely to the massive armies of fans that pour in from all walks of life to soak in the blood, guts, and severed limbs. This weekend's May-Hem Festival was no different, creating a spooky sanctuary for not only the twisted creeps in the subculture, but people who just want to have a gore-tastic good time. One thing is for sure, folks: It's a thing of beauty.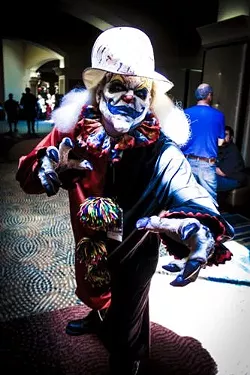 It's like a moon-bounce...without your kid punching your neighbor's kid in the mouth.
These guys had a blast scaring the piss out of tourists. Hilarious!
I started my day as I usually would at any convention: I just people-watched. It's amazing to see folks skulking around cosplaying not only their favorite slasher film icons, but creating their own ghastly wardrobes for the sake of diehard fandom and limitless imagination. Some outfits were so extravagant, they could only be showcases for the ingenious artists who toiled for hours applying prosthetics and makeup. One can only hope that some of these masterminds were offered opportunities to apply their talents in full-length features post-festival--they sure as hell deserve it. For the inside of a hotel convention center, the transcendent (and strangely-contrasting) vibe was otherworldly and worth exploring to the fullest. Both locals and celebrities alike appreciate the ambiance, and I even passed Zakk Wylde a few times--ya know...Ozzy's former guitarist--who was appearing as a guest of honor. Times like those are best addressed by rolling my eyes, throwing my hands in the air, and exclaiming "Only at Spooky Empire!"
The "brain-eating contest"
Chad Harmon - 'Anti Warhol's Popart Horror'
The dealer room this year was just as full of vibrance and horror-centric artwork as it has ever been. Watching multiple minds take on the same bloody subject matter is exhilarating, and it never ceases to amaze me just how many different interpretations of Patrick Bateman from American Psycho can be put on canvas. A favorite of mine involved a page from an ABC's children's book, but you'll have to seek that one out on your own. A lot of people will involuntarily turn a blind eye to horror conventions because they're afraid of getting scared, or they don't understand that artistic culture can spawn from such a sick and twisted genre of film. Spend a few minutes in a Spooky Empire dealers room, and you will completely understand just how much fun can blossom from something so dark and gory. Have you ever seen a grown man geek out over a My Little Pony rendering of Michael Myers? That's worth the price of admission alone.
It's like a moon-bounce...without your kid punching your neighbor's kid in the mouth.
After my brisk stroll, I got to spend a fair amount of quality time with The Ghouligans, a group of living-dead cartoons that are ravenously trying to turn their indie variety show into a full-fledged household name. Imagine Pee-wee's Playhouse with the Frankenstein monster, an underdog zombie, and a wisecracking Wolfman...and you'll be relatively close to (maybe?) scratching the surface. I was lucky enough to catch a screening of a few episodes from their pilot season, and there was a hell of a lot of passion and edgy comedy on-screen. From where I was sitting, the audience was roaring and the humor was pun-tastic. If Adult Swim knows what's good for them, they'll check these guys out right away. I'm not sayin...but I'm just sayin!
One of Halloween Extreme's many wares for local haunts...this one was a top-seller.
Halloween Extreme was another beast entirely. From the outside, it seemed like just another layer of the connected (albeit very different) horror conventions. But the moment I stepped inside, I was bombarded by smoke machines, gyrating animatronics, and gimmicks that only the most passionate minds could conjure. Seriously, it was like a Spirit Halloween store and "Q" from James Bond had a love-child and decided to charge admission to occasional viewings. Hilariously enough, one of the strangest sights in the convention was a blow-up haunted house that patrons could traverse. It wasn't very scary at all, but it did feel like you were trying to be suffocated by a moon bounce---hooray for great decisions! Apparently, they just figured any music was good for journeying through such a strange fortress of squishy mystery, and I was fortunately stuck running frantically through the thing with the theme song from Pokémon blasting overhead. So, to give you a visual: my buddy Keenan (Bloody Disgusting) and I bolted through a brightly-colored, rubber haunted house scream-singing how we wanted to "catch 'em all" and "be the very best like no one ever was". This resulted in our busting through the exit flap as if birthed by a giant clown. Needless to say, we both agree that it was one of the highlights of our weekend.
The "brain-eating contest"
Of course, no Spooky Empire event would be complete without the mind-melting, drunk-tacular after party. These are usually held by a pool, drowned out by hard rock/industrial music, and filled to the brim with attendees, celebrities, and a trail-mix of costumed ghouls. It's a controlled chaos, and one of the highlights of each Spooky Empire convention. This year, we were graced with a "screaming competition" over whaling metal music and a "brain-eating" tournament that got disgustingly out of hand--I wouldn't have had it any other way. Goths and monsters alike were stripping down to their skivvies, invading the various aquatic habitats, pouring liquor down each others throats, and celebrating the camaraderie of this one-of-a-kind community. I capped off my evening by losing my voice when I chose to belt Iron Maiden's Run To The Hills alongside an air-guitaring army of the undead
The irony was inescapable. To say it was a sensory overload would be putting it lightly, but that's also assuming I remember all of it. Which is assuming too much. Far too much.
Where else could you find art like this? Seriously.
So sure, you may not be as passionate as the rest of the Orlando horror community. Hell, you may not even like horror movies! You may not even have a spooky bone in your body and feel comfortable telling yourself that it's "just not your type of thing". But let me put it all in perspective for you: I got to meet celebrities, network with some of Orlando's most talented artists, run through a big rubber fort with my best friends, and party hard with beings that could have been spawned from my own imagination.
...What did you do this weekend?
For more information about Spooky Empire, check out their website: http://spookyempire.com