Vaughn and Wilson, reduced to monitoring Fandango orders in real time.
Like all Americans, I had a choice this weekend as to how I was going to exorcise my lingering socioeconomic malaise. And like most Americans, I opted for "slaughter of the innocent" over "creative retraining."
At this point, it looks as if the weekend box office will be won by The Purge, the "speculative thriller" in which a near-future America ensures peace and prosperity by allowing its citizens one night of sanctioned violent mayhem per year. The movie is on track to bring in $34.5 million by Sunday's end, making it a surprise winner over the comedy The Internship, which casts Vince Vaughn and Owen Wilson as middle-aged salesmen forced to start all over via internships at Google.
"You've suffered through 25 years of trickle-down. Now will you PUT ON THE DAMN GLASSES?"
Vaughn and Wilson, reduced to monitoring Fandango orders in real time.
Years from now, we may remember this weekend as one in which the American moviegoer decided that up-by-your-bootstraps self-reinvention is a less realistic approach to keeping up with the Joneses than simply shooting said Joneses in the head the minute you know you can get away with it. What's interesting is that the TV ads for The Purge don't begin to indicate how important the theme of class warfare is to its narrative. On its face, a spree of consequence-free aggression might sound like an apolitical concept.  But the film establishes quite early (and quite overtly) that a society whose members can hunt one another for sport is an inevitable aristocracy, simply because the poor are far less equipped to defend themselves.
The allegory proceeds from there, with a family that has gotten rich from Daddy's (Ethan Hawke) selling of security systems locking itself up tight to wait out the 12-hour "purge." During that period, some of their neighbors will do the same, while others will venture out to cleanse their souls of hatred by murdering whomever they feel like (i.e., the weak).
Things get complicated when the family's conflicted male child (Max Burkholder) opens the doors of their home to a homeless black man (Edwin Hodge) who's being pursued by a gang of vicious, well-off white kids. The gang, incensed that their own class of people would come between them and one of the "swine" they've been empowered to eradicate, threatens to destroy the home and everyone inside it unless their prey is surrendered. There's just one problem: That intended victim is now hiding somewhere within the obscenely roomy abode, so its owners might not be able to produce him even if they wanted to.
Let's be clear: The Purge is far from great art. As suspense/pursuit stories go, it's a real let's-all-split-up-and-search-the-place picture. And it's so afraid we won't recognize What It's Really About that it has every character tell us, including commentators on the TV sets and radios that are constantly blaring. (Would a country that has been hosting The Purge for several years still need it explained in detail on all channels?  And would a government that whipped up a tradition so barbaric even allow the public to debate its implications on the air 24/7?) Finally, the homeless character is a bit too virtuous for comfort; while director/writer James DeMonaco has sidestepped charges of racial patronization by also giving us a mixed-race couple that's totally down with The Purge, all he has really done in the process is replace the Magic Negro with the Magic Vagrant.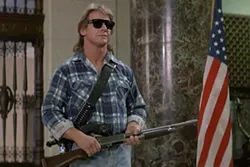 "You've suffered through 25 years of trickle-down. Now will you PUT ON THE DAMN GLASSES?"
So this is a B picture with its ideological heart in the right place. In other words, it's well-intentioned trash. But so was They Live, the 1988 John Carpenter flick in which the Reagan revolution was revealed to be a conspiracy from outer space, and I felt like kissing Carpenter for making it. However heavy-handed The Purge is (and it's plenty so), I'll take it as a stealth antidote to the red-state pandering "liberal Hollywood" customarily trades in, especially during the summertime. If I can't have a 2,536-screen release that seems to have been written by Paul Krugman, I'll settle for one that could have been brainstormed by Ed Schultz.
And anyway, the narrative upshot of The Purge is far more interesting and useful than most critics have recognized. On the whole, the most they've been able to say for it is that it has an intriguing premise but ultimately succumbs to the sadism it purports to condemn.
I don't agree at all. The true climax of the film is a remarkably effective anti-violence statement, simply because it's realistically narrow in its aspirations. Without engaging in any spoilers, it involves renouncing murder while demonstrating that lesser bloodshed is both unavoidable and very messy business itself. In the interim, I was honestly intrigued by the way in which the family responds to its moral quandary (give up the homeless dude or lose your own lives), and what their reaction says about our current national choices.
At the outset of the picture, our protagonists consider themselves proponents of The Purge but not participants in it -- kind of like poll respondents who don't own a gun but say they "support the second amendment." Yet as the siege wears on, we see that Mom (Lena Headey) has serious doubts, while Dad may be more of a sadist than he would like to admit. A scene in which he tries to force the homeless fellow back outside is one of the most bracing moments of enforced self-recognition a summer audience has ever been confronted with. (Stick around through the end credits; the very last words of the movie are equally jarring.)
Far from stopping at exploitation, the film does a commendable job of allegorizing the moral race to the bottom that has become our policy discourse. The kids who descend on the house are the spiritual descendants of the 2011 debate audience that called out "Let him die!" when faced with a simple question of basic human compassion. They're the Steve Kings and Louie Gohmerts of the world, who never met an opportunity for cruelty they didn't love. Meanwhile, the family are like frightened old-school conservatives, doing their best to not offend the new breed while gradually realizing that polite disengagement is a purity test they can't hope to pass.
In The Purge, we get to stand inside that circular firing squad and see just what it's doing to us all – and where it might take us if we don't have the good sense to put a stop to it. Ready, aim, resist.
Follow me on Twitter: @Schneider_Stv