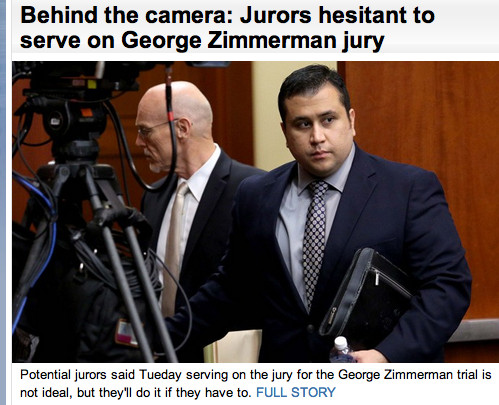 CF News 13, which is promising minute-by-minute coverage of the entire George Zimmerman case, has been posting constant updates from the Sanford courtroom where jury selection for the trial has been taking place. But as anyone who's ever sat through an entire court case already knows, it's a slog, and not everything that's said in court is really all that riveting. However, the live updates from jury selection are, we must admit, somewhat fascinating – a glimpse into the soul of America. We went through the live updates and selected some of the highlights (and low lights) for you to peruse. If you want more, all you have to do is check out the CF News 13 website. They'll be riding this trial til the wheels fall off.
Juror P67
The juror said he remembers hearing that somebody got shot, and then the protests that followed. He said, laughing, that he got quickly tired of hearing about the case. He said he saw photos of George Zimmerman's injuries, and he remembered seeing Trayvon Martin's "mom and dad" on TV.
Juror B67
Prosecutor Bernie de la Rionda asks the juror what she has seen or heard about the case so far. She said she has heard people talking about "someone killed in Seminole," but doesn't remember much detail.

The juror said she recalls seeing photos of Trayvon Martin "wearing something over his head." She likely means the black-and-white photo of Trayvon wearing a hoodie.

The juror said she isn't sure if she could judge this case, saying she believes "the only person that can judge is God."
Juror N18
[Zimmerman defense attorney Don] West asks about a disability the juror indicated he had. He said his head has been spinning, and he is having back pains from sitting. He then went on to say that he prays every night for both families, and he can't sleep. He also prays or God to give him "strength to be here."
Juror E75
Defense attorney Don West asks Juror E-75, "Aren't you cold?" noting the juror is wearing a tank top. "A little bit," the juror replied, chuckling.

"Is it hot in the jury room?" West asked. "A little bit," E-75 said again.

The juror said he's not sure if his job will pay him for days he's on jury duty, but he said his personal funds are sufficient, and he would not face hardship. He added his parents would help pay for car insurance and other bills, and he lives with his parents, so he does not have to pay rent.

The juror explains the Facebook news feed to West, saying that the posts he saw were from his friends online.

The juror reveals he was a junior in high school when the shooting happened. He just graduated a few weeks ago. ...

West asks the juror about his "OBEY" shirt, if it means anything. The juror explained that was simply the name of a brand, and he didn't wear it for any other reason. West concluded questioning by suggesting that the juror that he might want to "bring a jacket next time."
Juror E50
[Zimmernan defense attorney Mark] O'Mara asked what photos the juror has seen of George Zimmerman. The juror said he recalls Zimmerman being "less in weight." Zimmermnan smiled and quietly laughed to himself.

The juror said he does not use the Internet, joking he remembers when Western Union was considered to be fast. He reflected on when he felt times were safer. Nowadays, he said, everything feels like it's "TMI." [too much information] O'Mara comments, "That's an Internet term." The juror explains his daughter uses it.
Juror H35
"I want to be there for America and do this, but I have obligations," she says, adding that she has to move at the end of the month. She also says she has social anxiety.
Juror E7
A juror dismissed Wednesday over a Facebook post made shortly after the Trayvon Martin shooting has been escorted from the courthouse after showing up again Friday.

The former Juror E-7, identified as Jerry P. Counelis, was escorted off the property for trespassing.

Counelis made a comment on Facebook in March 2012 on a link to a pro-Trayvon website, saying "I can tell you this: Justice is coming," and bashing the "corrupt" Sanford Police Department for not arresting George Zimmerman.
Juror G63
Defense attorney Mark O'Mara begins questioning Juror G-63.

The juror began talking about "archetypes," or stereotypes, with O'Mara, offering the examples "bro" and "hipster." He said he doesn't know anyone who matches such archetypes.
Juror G47
He said his news watching is "sparse," because he finds it depressing, describing himself as a "very happy person." He said he only cares about news that affects him personally, explaining "a tsunami in Japan or an earthquake in India" would potentially impact his life more than the Zimmerman case.
Juror G29
When she got her jury summons, she said to herself, "Not again." She has served jury duty before.
And that, ladies and gentlemen, is how jury selection has been going so far.