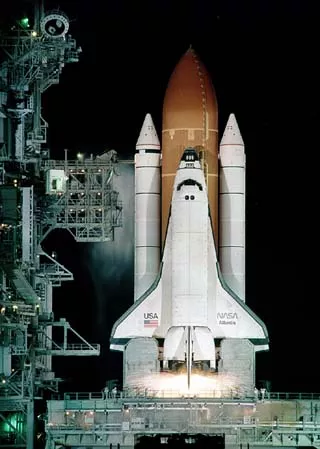 Kennedy Space Center is opening a new attraction, and not to say that their latest Angry Birds Space Encounter doesn't leave a profound engineering impact, but the new Atlantis exhibit might actually leave us with our mouths hanging open at the awe of pure, mind-bending science.
Not to be cliché, but let's face it: Space Shuttle Atlantis, one of the five in NASA's history, is truly a freaking marvel of modern technology. It's responsible for 33 missions: It docked at the International Space Station 12 times and deployed spacecraft 14 times, among these.
This Friday, June 28 marks the grand opening of the shuttle's display, so naturally, a day packed with commemorative events is in order. Now, the day starts at 9:30 a.m. with a processional, followed by some fancy dedication speeches. Guests finally get to see the shuttle, decked out with over 60 interactive exhibits, and with payload bay doors open, as if it is docked to the ISS, at 10:15 a.m.
But hold up. This isn't going to be one of those snooze fests like your sister-in-law's second wedding or your kid's preschool graduation. Oh no. This day will be celebrated with actual astronauts, no less than 40 of the men and women who were part of the Atlantis missions. And to top it all off, from 1:30 to 3:30 p.m., these astronauts will be taking pictures and signing autographs in front of the space shuttle.
To attend the opening events, all you need is a Kennedy Space Center day pass for Friday, June 28. ($50 for adults, $40 for kids.)
The geek inside all of us is about to be unleashed.