5. Trevor Dooley:
Found guilty of murder, but was released from jail on bond pending an appeal in February 2013
via wtsp.com In 2010, 69-year-old Trevor Dooley walked over to a basketball court near his home in Valrico to tell a skateboarder to get off the court. David James, a 41-year-old father, was playing on a nearby court with his young daughter and allegedly began to yell at Dooley. Dooley revealed that he had a gun, then started to walk away. James continued to yell after him and ask about the gun. Dooley walked back to the court and a confrontation ensued. James attempted to disarm Dooley, who said he feared
he was being overpowered
by the larger, younger man as they wrestled on the ground. He then shot James to death while they grappled. According to a story in the
Tampa Bay Times,
the judge in the case noted: "All this could have been avoided if somebody had stopped and said, 'Let me introduce myself.'" He was sentenced to eight years in prison, but was released on bail while awaiting an appeal – much to the dissatisfaction of his neighbors who say they do not want to live next to someone who killed another man. "Murder is murder," one was quoted as saying in
this WTSP report.
4. Donovan Blain Adams:
charged with second-degree murder, but a grand jury dropped the charges against him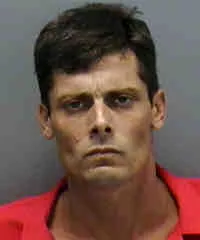 mugshot of Adams In 2006, Donovan Blain Adams and his roommate, Carrie Myers,
had a fight
. She shot at him and he fled. Later, she walked by while he was hiding. He allegedly chased her down, strangled her, hit her with a concrete block, then shot her to death. Authorities initially said his actions went beyond those of someone trying to defend himself, but the grand jury did not press charges. According to the
Tampa Bay Times
, this case was not Stand Your Ground but Self Defense.
3. Michael David Dunn:
case pending
In 2012 at a gas station in Jacksonville, Michael David Dunn
approached a car full of teenagers
and told them to turn down their music. An argument allegedly ensued, and Dunn claimed he thought he saw a shotgun. He told police he then fired shots at the teens because he was afraid for his life. A 17-year-old, Jordan Russell Davis, was killed by one of the shots. Dunn and his girlfriend fled the scene, and Dunn was arrested at his home in Satellite Beach the next day. According to a report by NBC News, Dunn's lawyer claims he acted "acted responsibly and as any responsible firearms owner would have" and that he would claim self-defense. A Stand Your Ground motion has also been mentioned. Dunn is now facing murder charges, and two judges have
removed themselves
from the case so far.
2. Yajaira Jiminez-Castillo:
guilty
In 2008, Tampa 15-year-old Yajaira Jiminez-Castillo claimed that 23-year-old Ramon Arzola was attempting to sexually assault her. She says he tried to grab her breasts, he called her dirty names and he pulled a knife on her, which she then grabbed, slicing her hands up in the process. She got the knife and ended up stabbing him 74 times, and he died. Jiminez-Castillo, who had been sexually assaulted in the past, was allegedly high when the incident occurred. A jury didn't buy her claim that she was defending herself, so her Stand Your Ground claim was rejected.  A
judge told her
"You took a life. You could have left." She received a 15-year sentence, but all but three years were suspended.
1. Craig Sandhaus:
pending
In 2011, Milton Torres, a bouncer at downtown Orlando bar the Lodge, was escorting brothers Eric and Craig Sandhaus out of the bar after a brawl. An additional altercation broke out, and Torres was stabbed to death. Police initially thought that Eric Sandhaus was the one who did the stabbing, but Craig Sandhaus later confessed to the killing. He later asked to have his
confession tossed
because his attorney had a conflict of interest and that he'd only confessed because he wanted his brother released from jail. Sandhaus' trial was
stalled in May
when two prospective jurors had to be removed for discussing the case with one another, against judges orders. A judge denied Sandhaus' initial claim of self-defense, but it could still arise during his trial.