The Anti-Ghost Story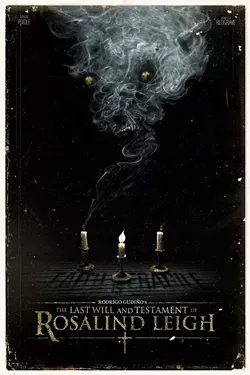 Telling a great modern ghost story isn't an easy task. I've been writing a feature film script for a few months now, and it's mind-numblingly difficult to avoid classic tropes, clichés, or knowing when it's safe to evolve one of them Tarantino-style. And god forbid you beat to death the classic jump-scare. Our mainstream audiences will be forgiving as always, but our local horror community won't let you live it down (you might end up being laughed out of your nearest horror convention). That being said, The Last Will and Testament of Rosalind Leigh takes a jarringly-subtle route to evolving the classic "ghost house" sub genre, and ends up proving more effective than than most modern horror efforts to date
and it does so with arguably one fourth the desperation.
The premise is age-old: After the tragic loss of his mother, Leon (Aaron Poole) inherits her old mansion and everything in it. And by everything, I mean the hundreds-upon-thousands of religious memorabilia strewn throughout the creaky manor like a living polytheistic Eye Spy game. The cinematography (second-place only to the masterful audio editing) glides wistfully through the narrow hallways, making sure we take proper time to absorb each porcelain statue or taxidermied animal. This is usually accompanied by either a complimentary or contrasting audio cue (you have to hear it to believe it) helping paint the imaginary picture that may be haunting Leon upon impact. It's a beautiful tactic and works very well for a film shot within an inch of its life. These two factors, along with a passionate love of its characters, make The Last Will and Testament of Rosalind Leigh a gripping attack on the senses. You've seen these tactics pulled off in horror films before, but never quite to this effect.
Above all, this is a story about demons. Not the kind plaguing your annual Paranormal Activity film, or fright-fests like Insidious. This is a tale tackling the demons of the mind: The ones that haunt you when you sleep and have driven others to insanity. It's about a mother's love, the naivety of childhood, the abrasiveness of religion and the daunting realization that when you die with regrets, then it's your burden to bare. Robert Herrick said it best: "Gather ye rosebuds while ye may." This film proves that when you focus heavily on facing the internal conflicts of your characters, the fear of the supernatural entities around them increase tenfold in your audience. Moreover, if your vision is strong enough to bring these fears to life, well, then you have The Last Will and Testament of Rosalind Leigh.
On the religious front, it's sometimes tough to pinpoint the statements this movie is trying to bring to the surface, but I think that might be the point. This is not a blatant Bible-bashing romp through the mind of an insane mother who tortured her child, but a statement on how much more powerful family and human relationships are than anything metaphysical. In that way, I would go as far as to say it's the "anti-ghost story". Holy or otherwise.
There are few efforts as confidently haunting as The Last Will and Testament of Rosalind Leigh. Some may find the ending anticlimactic, but I think it closed right where it needed to. It's a tragic fairytale of loss and missed chances---if you watched it with a full heart, you might just want to hug your mother afterwards. Just like any funeral you've ever been to, you start to realize that it's not a depiction of somebody's death, but how they lived that gives eternal life to the deceased. For the subtlety of its delivery, this masterful anti-ghost story remains equally as timeless.
5/5